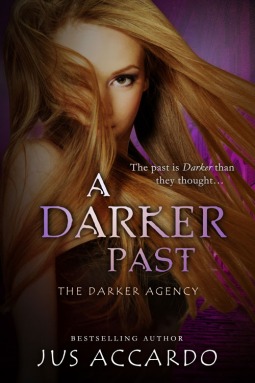 Rating: A
Synopsis:
The past is Darker than they thought…
Between helping her mother with the Darker Agency and laying the smack down on monster baddies, Jessie Darker puts the "normal" in paranormal. But lately, things have gotten a little crazy…even for a smart-assed half-demon teenage girl.
For starters, Jessie's been contracted into fifty-five years of annoying servitude. To a demon. Then there's Lukas Scott, her sexy new boyfriend. Once the former incarnation of Wrath, he's been going through some…uh, changes. Like residual anger. And trading chaste hangouts for lusty make-out sessions.
But it's when Lukas and Jessie accidentally release a Very Nasty Demon that things get really bad, setting into motion a chain of death and mayhem that threatens both Earth and the Shadow Realm. Jessie has exactly four days to fix it…before all of Hell breaks loose.
My thoughts on the book:
I absolutely adored
Darker Days
, and I had been looking forward to the sequel for some time.
A Darker Past
did not disappoint. Accardo's lovely and captivating writing combined with Jessie's sense of humor and Lukas' depth made for a terrific novel. Everything I loved about the first book was present in the second installment as well. I can't wait to see what's in store for Jessie and company next!
The characters in these books really make the stories what they are. Each character has depth and is extremely unique. I absolutely love Valefar. I know he's supposed to be a horrific demon, but he just cracks me up. Lukas' adjustment to the 21st Century is also endearing and funny. Jessie's sarcasm makes me love her, and Kendra's flirty nature is a nice offset to Jessie, who had sworn off boys until she met Lukas. I also enjoy reading about Jessie's parents. Her demon father and human mother make for an interesting couple. I'm so glad that the parents aren't conveniently MIA for the novel and that Accardo has included them in the story. Jessie and Lukas both evolve over the course of this novel, and every change felt organic. It seems as if Accardo lets the characters tell their own stories instead of manipulating them to fit her plot. I really love books like that.
The plot itself is packed full of suspense, not only because of Lukas' changes (showing a darkness that his character lacked in the first installment), but also because of the fact that they have four days to fix their mistake before they have apocalyptic repercussions. Between my interest in the characters and the suspense of this novel, I was flying through the pages. However, Accardo's exquisite world-building can't be ignored. I really love she gives us more history about the Darkers and Belfairs and talks about the ancestry in this novel. I'm a big history dork, so seeing more history made me understand the world that much more. Also, the author paints vivid pictures of both Hell and the Earth-bound settings. My only complaint about this novel is the ending, which I felt was a little bit too clean cut. I'm still looking forward to the next installment, though!
If you're looking for a lighthearted, fast-paced read, look no farther than this series. It's a great escape from your everyday life, and Accardo is a fantastic author.
About the Author:
JUS ACCARDO
spent her childhood reading and learning to cook. Determined to follow in her grandfather's footsteps as a chef, she applied and was accepted to the Culinary Institute of America. But at the last minute, she realized her true path lay with fiction, not food.
Jus is the bestselling author of the popular Denazen series from Entangled publishing, as well as the Darker Agency series, and the New Adult series, The Eternal Balance. A native New Yorker, she lives in the middle of nowhere with her husband, three dogs, and sometimes guard bear, Oswald.
Author Links:
GIVEAWAY: