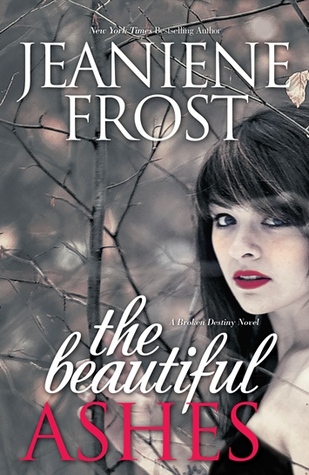 Rating: B-
Synopsis:
In a world of shadows, anything is possible. Except escaping your fate.
Ever since she was a child, Ivy has been gripped by visions of strange realms just beyond her own. But when her sister goes missing, Ivy discovers the truth is far worse—her hallucinations are real, and her sister is trapped in a parallel realm. And the one person who believes her is the dangerously attractive guy who's bound by an ancient legacy to betray her.
Adrian might have turned his back on those who raised him, but that doesn't mean he can change his fate…no matter how strong a pull he feels toward Ivy. Together they search for the powerful relic that can save her sister, but Adrian knows what Ivy doesn't: that every step brings Ivy closer to the truth about her own destiny, and a war that could doom the world. Sooner or later, it will be Ivy on one side and Adrian on the other. And nothing but ashes in between…
My thoughts on the book:
The Beautiful Ashes is Jeaniene Frost's first endeavor into the world of angels and demons. It's also her first New Adult novel. While I wasn't as blown away by this effort as I was the Night Huntress Series when I first began it, I did enjoy the book. The pacing was pretty fast, the characters were well-developed, and the plot was intriguing enough to keep me interested. The story wasn't perfect, but I'll definitely be reading the sequel.
Ivy is likeable enough, though a bit less complicated than Cat, and Adrian is no Bones. I know I shouldn't compare the two sets of characters, since they are from two very different stories, but I can't help it. Also, Ivy is kind of immature. Sometimes she seemed to overreact about really stupid, childish things. And at other times she didn't react enough. I never felt her mourning for her family. She just kind of brushed that aside. Adrian was a bit too tormented and angsty for my tastes, but that's okay. He's still a relatively strong character, and I look forward to getting to know him some. The secondary characters were interesting, especially Costa.
Some of the characters' actions in the story seemed too convenient, like when they changed long-held beliefs almost instantly in the name of love, etc. However, for the most part, things flowed naturally. As previously stated, the pacing was spot-on. Nothing dragged. The romance tried to be steamy, but didn't quite make it. Again, the passion was nowhere near the level of Cat and Bones' lusty encounters. That being said, I'm hopeful that the next installment will bring more to the table, romance-wise. Frost is an excellent romance author as her Night Huntress series and its spin-offs illustrate, so I have faith that she can bring this lukewarm love some much needed heat. The ending tied things up from this novel nicely but set the stage for book two, which I am looking forward to.
Overall, I'd recommend this book to fans of Frost's writing (she definitely has her trademark sense of humor in this novel) and people who love stories about angels and demons. I enjoyed the book, and I'm sure many of you will, too.
Order The Beautiful Ashes