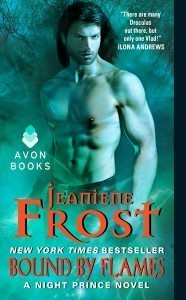 Rating: A+
Synopsis:
Play with fire, pay the price.
Leila's years on the carnie circuit were certainly an education. What she didn't learn: how to be a vampire, or how to be married to the most famous vampire of them all. Adjusting to both has Leila teetering on a knife edge between passion and peril, and now the real danger is about to begin…
Vlad must battle with a centuries-old enemy whose reach stretches across continents and whose strength equals his own. It isn't like Vlad to feel fear, but he does…for Leila, because his enemy knows she is Vlad's greatest weakness. As friend and foe alike align against him—and his overprotectiveness drives Leila away—Vlad's love for his new bride could be the very thing that dooms them both…
My thoughts on the book:
Bound by Flames, in my opinion, is the best book that Jeaniene Frost has ever written. I absolutely adore all of her novels, but this one really stands out. It is difficult to read in places (graphic torture), but it has heart, grit, and suspense. I couldn't put this one down. I'm a huge fan of the Night Huntress Series, and Vlad has always been one of my favorite "spin-off" characters, but this book goes above and beyond any expectations I had for him and his series. Well done, Ms. Frost. I can't wait to see what you come up with next.
The character growth in this novel is astounding and extremely organic. Vlad really grows as a man, vampire, and husband in this installment. He proves he loves Leila by actually listening to her (sometimes). Leila, for her part, is coming into her own as a woman, vampire, and wife. She is learning how to deal with Vlad's overbearing ways and how to work things out through compromise. I really had tons of respect for both of them in this book. Some of the secondary characters really grow and/or show who they really are as well, and there are some very touching moments.
Like all of Frost's novels, the pacing is pretty quick, and the plot is suspenseful, and full of action and romance with a touch of comedy. Some of the plot twists really surprised me, and I loved the cameo by Cat and Fabian. This novel had to be difficult to write with the torture scenes, and Frost shows that she doesn't shy away from challenges. She paints the torture scenes as vividly as the romance scenes, and that impressed me. While some of it is a little stomach churning to read (being skinned alive, for instance), Frost's ability to not back down while writing these scenes is deserving of respect. The Epilogue delivers some much-needed lightheartedness, and it's clear from the direction of this book that the series is winding down naturally (the next installment will be the last, unfortunately). While I can't wait to see what Frost comes up with for Leila and Vlad in the 4th book, I dread the end of this series. I've come to enjoy it just as much, if not more than, Cat's and Bones' books.
Overall, I'd recommend this series to anyone who is looking for a good vampire novel that pokes some fun at the old Dracula myths. Frost is a fun and talented writer, and if you haven't read anything by her yet, you're definitely missing out.
Order Bound by Flames