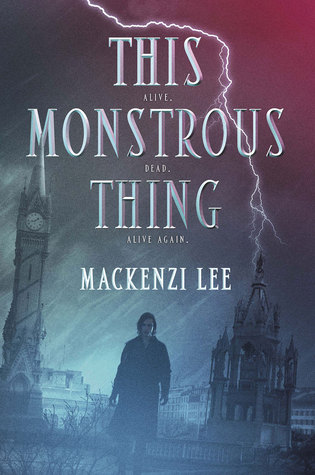 Rating: C
Synopsis:
In 1818 Geneva, men built with clockwork parts live hidden away from society, cared for only by illegal mechanics called Shadow Boys. Two years ago, Shadow Boy Alasdair Finch's life shattered to bits.
His brother, Oliver—dead.
His sweetheart, Mary—gone.
His chance to break free of Geneva—lost.
Heart-broken and desperate, Alasdair does the unthinkable: He brings Oliver back from the dead.
But putting back together a broken life is more difficult than mending bones and adding clockwork pieces. Oliver returns more monster than man, and Alasdair's horror further damages the already troubled relationship.
Then comes the publication of Frankenstein and the city intensifies its search for Shadow Boys, aiming to discover the real life doctor and his monster. Alasdair finds refuge with his idol, the brilliant Dr. Geisler, who may offer him a way to escape the dangerous present and his guilt-ridden past, but at a horrible price only Oliver can pay…
My thoughts on the book:
This Monstrous Thing is an intriguing retelling of the classic novel, Frankenstein. One of my favorite things about this novel is that Mary Shelley was actually in the book. Also, the characters were so real and flawed. It felt like I was reading history instead of fiction. That being said, since the mystery wasn't really that mysterious for the reader, the big reveal(s) didn't stand out to me. I was invested in this story because of the lovely writing and wonderful characters, but the plot was lacking.
Alasdair was an intriguing and trustworthy narrator. I really enjoyed reading from his perspective, though he was a bit emotional for a male narrator, in my opinion. That's not to say that men don't have emotions, I'm just saying that the way he relayed his emotions seemed a bit feminine at times.
Also, he was extremely selfish, and that annoyed me at times, but that also made him seem real.
Mary was a horrendous character, and I really didn't like her, but I loved the author's take on her in this novel, if that makes sense. Oliver was interesting, and I wish we had gotten to see more of him. I really felt bad for him. Clemence was intriguing as well, and I really liked her.
The plot itself wasn't very exciting because the big mysteries were already pretty obvious and/or well known, depending on which mystery you're thinking about. What really happened the night Oliver died was glaringly obvious, and it was clear that Mary Shelley wrote Frankenstein. That being said, the events that occurred were gripping, and I flew through this book. The writing itself was gorgeous, and Lee is excellent at describing the scenery and world around the characters. The ending was well-done, too.
Overall, I'd recommend this to anyone who loves steampunk and classics. This was an interesting novel, and I look forward to reading more by Mackenzi Lee.