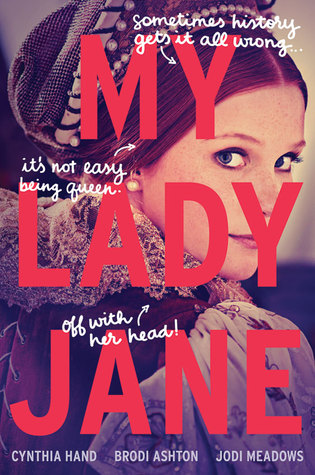 Rating: A-
Synopsis:
The comical, fantastical, romantical, (not) entirely true story of Lady Jane Grey. In
My Lady Jane
, coauthors Cynthia Hand, Brodi Ashton, and Jodi Meadows have created a one-of-a-kind fantasy in the tradition of
The Princess Bride
, featuring a reluctant king, an even more reluctant queen, a noble steed, and only a passing resemblance to actual history—because sometimes history needs a little help.
At sixteen, Lady Jane Grey is about to be married off to a stranger and caught up in a conspiracy to rob her cousin, King Edward, of his throne. But those trifling problems aren't for Jane to worry about. Jane gets to be Queen of England.
My thoughts on the book:
I will admit that I was a bit hesitant when it came to this book. I am a history dork (my minor was history), and I am absolutely obsessed with Medieval Europe especially the Tudor and post-Tudor era. Therefore, I wasn't really sure how I'd take a revisionist, comedic history written about Lady Jane Grey. However, Ashton, Hand, and Meadows are three of my favorite authors, and I knew that if anyone could pull this off, they could. As it turns out, I was absolutely enthralled with this novel. It is light, funny, and a ridiculously engaging read. I couldn't put it down. I read it all over the course of 3 days after work, and considering it's over 500 pages, that's a pretty big feat. This was simply a lovely story.
I'm always a bit nervous when I hear about historical fiction reworking actual historical figures, rather than setting a book in a certain time period and creating one's own characters. The authors rarely get the characters "right," in my opinion, and any history buff would say the same thing. We could all nitpick everything to death until the end of time. However, this book didn't really *try* to get the characters right. Since it was a comedy, and the narrators made it clear that it wasn't to be taken seriously, I was able to completely delve into their world, the characters, and the alternate version of the time period. Yes, the language was off, and yes, one of the characters wanted to be called G, which would just never happen in that day and age, but I loved all of the characters, nonetheless. Jane was a strong heroine, and I really loved their version of Elizabeth I. I feel like they actually had Bloody Mary pretty spot on, to be honest. Edward was more engaging than he would have been had they stuck to his actual personality. I wasn't a fan of what they did with Mary, Queen of Scots, but that's because I'm a huge fan of the Scottish Queen.
The writing was cute and casual and incredibly engaging. They had little side notes and parentheticals throughout the novel to let the reader know that they were the ones telling the story. I enjoyed that, and their random (some real, some fake) historical facts, too. They didn't try to pass this off as anything close to authentic for a single second, and I loved that. It took a lot of courage and wit to pull this off. The pacing was quick but not rushed. The ending was adorable. The romances were cute and appropriate for all ages of YA readers. Each author took one one character, and the book was told from 3 perspectives. I have an idea who wrote which character, but I don't want to ruin it for other readers, so I won't hazard my guesses here. In my opinion, this was a courageous, witty, and fun modern day fairy tale. We don't get many actual fairy tales nowadays, and I appreciate these ladies writing one for us.
I'd recommend this book to anyone. Whether you're a fan of romance, historical fiction, comedy, fantasy, or all of the above, you are sure to be charmed by this book.