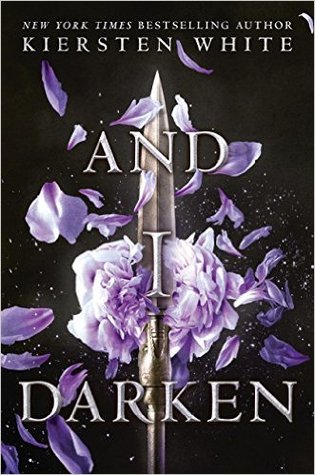 Rating: D
Synopsis:
This vividly rendered novel reads like HBO's Game of Thrones . . . if it were set in the Ottoman Empire. Ambitious in scope and intimate in execution, the story's atmospheric setting is rife with political intrigue, with a deftly plotted narrative driven by fiercely passionate characters. Fans of Victoria Aveyard's THE RED QUEEN, Kristin Cashore's GRACELING, and Sabaa Tahir's AN EMBER IN THE ASHES won't want to miss this visceral, immersive, and mesmerizing novel, the first in a trilogy.
NO ONE EXPECTS A PRINCESS TO BE BRUTAL. And Lada Dragwlya likes it that way. Ever since she and her gentle younger brother, Radu, were wrenched from their homeland of Wallachia and abandoned by their father to be raised in the Ottoman courts, Lada has known that being ruthless is the key to survival. She and Radu are doomed to act as pawns in a vicious game, an unseen sword hovering over their every move. For the lineage that makes them special also makes them targets.
Lada despises the Ottomans and bides her time, planning her vengeance for the day when she can return to Wallachia and claim her birthright. Radu longs only for a place where he feels safe. And when they meet Mehmed, the defiant and lonely son of the sultan, who's expected to rule a nation, Radu feels that he's made a true friend—and Lada wonders if she's finally found someone worthy of her passion.
But Mehmed is heir to the very empire that Lada has sworn to fight against—and that Radu now considers home. Together, Lada, Radu, and Mehmed form a toxic triangle that strains the bonds of love and loyalty to the breaking point.
From
New York Times
bestselling author Kiersten White comes the first book in a dark, sweeping new series in which heads will roll, bodies will be impaled . . . and hearts will be broken.
My thoughts on the book:
I have a love/hate relationship with Kiersten White's books. I absolutely adore some of them, and I cannot stand some of the other ones. The main thing that kills me in her books usually is the characters, and in that, this book was no exception. White is an extremely talented author. She has a strong voice, writes beautiful descriptions, and paces her stories very well. The concepts are always intriguing, if not completely captivating, and the plot always makes sense and is engaging. However, some of the characters she writes are just atrocious, and that's a shame.
I hated every single character in this book. Lada was a freaking sociopath, and most of the story was told from her perspective - third person. She was just not a good person. I had no sympathy for her whatsoever. She was a bully at best. She also was apparently ugly, which to me just says that her outsides matched her insides. Radu was such a pansy. Oh my goodness, I just wanted to throat punch him (see? now I'm acting like a bully, haha). He just whined and cried and sniffled and couldn't handle anything. He needed to toughen up. It was really pathetic, and it disgusted me. This has nothing to do with him being a male character. I don't really buy into gender roles, but male or female, he was just a whiny brat. So this gender reversal brings up a bigger gender role issue. Would I have been okay with Lada had she acted like Radu? No. I would have wanted to throat punch her. Would I have been okay with Radu if he acted like Lada? No. I still would have thought he was a manipulative sociopath. Now, on to Mehmed, who was weak. stupid, and a bigot. I hate zealots. I hate people who want to conquer other lands. I hate people who think in terms of manifest destiny, which is more or less what the little bigot was doing. And he couldn't handle his own crap at all. Just yuck.
The composition of the story also irked me a bit. The alternating points of view between Lada and Radu had no rhyme or reason, and honestly all it served to do for me was make me hate both characters equally. A teenager should not be crying for his/her nurse all the time. Grow up. Jeez. Aside from the POV issue, the writing was extremely well done. I was treated to beautiful descriptions of Transylvania and the Ottoman Empire. The world-building was fantastically written, and I felt I had a good grasp of what life could have been like in those days and in that geographic region. The gender issue was woven delicately throughout, and I fully agree that no one should have their life laid out for them easily, simply because of their gender. Women's rights in that time period were virtually nonexistent, and I felt that White handled that wonderfully and really brought the conversation to a modern context as well by assigning generally accepted "masculine" traits to Lada and generally accepted "feminine traits" to Radu. The pacing was wonderful, and I was engaged for the full story. The ending tied up a lot of loose ends and did a good job introducing the sequel.
Overall, this book was a good read, but the characters killed it for me. I felt like I spent hours with the most annoying people ever created, and that put me in a crappy mood. However, not everyone has the same taste in characters (or people for that matter), and the rest of the book was pretty solid. I may say give this one a try at the library first, just to make sure you can stand the characters, if you are huge on characterization like I am.