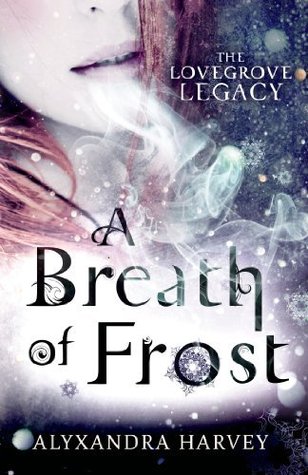 Rating: A-
Synopsis:
In 1814, three cousins—Gretchen, Emma, and Penelope—discover their family lineage of witchcraft when a binding spell is broken, allowing their individual magical powers to manifest. Now, beyond the manicured gardens and ballrooms of Regency London, an alluring underworld available only to those with power is revealed to the cousins. By claiming their power, the three cousins have accidentally opened the gates to the underworld.
Now ghouls, hellhounds—and most terrifying of all, the spirits of dark witches known as the Greymalkin Sisters—are hunting and killing young debutante witches for their powers. And, somehow, Emma is connected to the murders…because she keeps finding the bodies.
Can the cousins seal the gates before another witch is killed…or even worse, before their new gifts are stripped away?
My thoughts on the book:
A Breath of Frost is a cute and fun read. I love all of Harvey's novels, and this one isn't an exception. She has a terrific talent for painting a clear picture of a historic time period, making the reader feel as if he or she is living in that time period with the characters, but her books never come across as stuffy. The characters are relatable and complex, and the plot is detailed and intricate. This is the start of a great new series.
This story is told in a Jane Austen-esque free indirect discourse point-of-view that alternates between characters. For the most part, the alternations occur chapter-by-chapter, and each chapter focused on a different character, but at times, the narrator would slip into another character's mind and let you know what he or she is thinking. I really enjoy Austen's work because of the narrative style, and Harvey also did well working with this unique point-of-view. Many authors can't make it work for them, but it definitely works in this novel.
The main characters of the book are Emma, Gretchen, Penelope, Cormac, and Moira, with the focus mostly on Emma and Cormac. I really love each character, and they all have their own personalities. Emma is probably my favorite (though it's hard to pick just one), mainly because she creatively swears whenever she gets mad. A high bred lady during the Regency period shouldn't swear, and I adore how she throws out the rigid societal guidelines and does what she needs to do. Gretchen is a bit of a tom boy, and I hope I get to read more about her in the next novel. She seems like she'll be a fun character to get to know more. Penelope seems like a very sweet character. I assume the third book will be about her. She's is very different from the other two girls, much softer. She also doesn't subscribe to the rigid societal expectations, though. Cormac is a very brave, yet flawed character, and I absolutely loved getting to know him. He is a terrific leading male figure, and even though Emma isn't always aware of what he's doing, he always has her best interests at heart. Moira is a homeless orphan, and she also is a strong and interesting character. She is tough, but she has heart, too. I'm looking forward to learning more about her in the subsequent novels.
The plot is intricate, and there is a lot going on. The big reveal surprised me, and that doesn't happen often. Harvey has created a complex world, but she explains everything in a clear and concise manner. There are no annoying info dumps. We learn about the world right alongside Emma, Gretchen, and Penelope. The pacing of the story is spot on, and even though the book is a bit on the long side (around 500 pages), I was never bored. I enjoyed every single page of this novel. The ending ties things up nicely while leaving room for the sequel. Thankfully there's no cliffhanger.
Overall, I'd recommend this book to anyone who enjoys historical fiction with a paranormal twist. This is a unique novel, and the murder mystery plot will keep you on your toes.
Buy A Breath of Frost today!