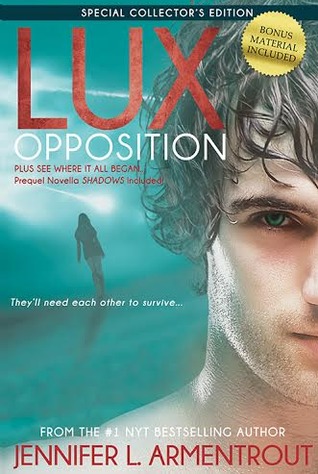 Rating: A-
Synopsis:
Katy knows the world changed the night the Luxen came.
She can't believe Daemon welcomed his race or stood by as his kind threatened to obliterate every last human and hybrid on Earth. But the lines between good and bad have blurred, and love has become an emotion that could destroy her—could destroy them all.
Daemon will do anything to save those he loves, even if it means betrayal.
They must team with an unlikely enemy if there is any chance of surviving the invasion. But when it quickly becomes impossible to tell friend from foe, and the world is crumbling around them, they may lose everything— even what they cherish most—to ensure the survival of their friends…and mankind.
War has come to Earth. And no matter the outcome, the future will never be the same for those left standing.
My thoughts on the book:
Opposition was an excellent conclusion to the Lux series. I absolutely loved every book in this series, and I am sad to see it end. However, this was a fantastic ending. The characters all grew organically throughout this story, and the pacing was spot on. The action scenes kept me on the edge of my seat, and the romance scenes were equally sweet and steamy. JLA did not disappoint with this installment.
Kat was an inspiration in this novel. She was amazingly strong and selfless. I want to be like her when I grow up! She went through a lot, and my heart broke for her several times, but she persevered, and I respected her for that. She didn't let what monsters did to her turn her into a monster, too. That kind of inner strength is hard to come by and very inspiring. Kat is the perfect YA heroine because of that. Daemon also grew up a lot in this book. I was glad to see that he was becoming less controlling. Being with Kat was good for him, apparently. He made a lot of sacrifices for Katy, and he stood up for what he believed was right. Daemon was somehow able to balance his intense love for Kat and his desire to stop the world from ending. Most characters can't do that. Dee was a wild card in this book. I really liked seeing different sides of her character. I wish we'd gotten to know more about Archer and Luc, but unfortunately there just wasn't enough time to spend on them while the world was ending.
I always enjoy JLA's writing, and this book wasn't an exception. My one problem with the writing was that the characters said the kind of dorky catchphrases sometimes. I felt that each character should have their own vocabulary when it came to things like that. However, her descriptions were amazing, and I could picture the horrific sights of the alien apocalypse. I also enjoyed reading things from Kat's and Daemon's POVs. It was easy to distinguish between the two most of the time, too. Armentrout always writes the best romance scenes, and these were no exception. Her action scenes were also top notch. I wish that we'd understood more of why the Luxen wanted to take over Earth instead of another planet, though. Since they had been spread out all over various universes, I don't understand why they wanted Earth so badly. That's the only part I really found lacking.
Overall, I really enjoyed this novel and series. If you haven't read the Lux series yet, you're missing out. I'm not a huge sci-fi fan, but I loved these books. If you like sci-fi at all, give the first book a try. I guarantee you'll love it.
Order Opposition