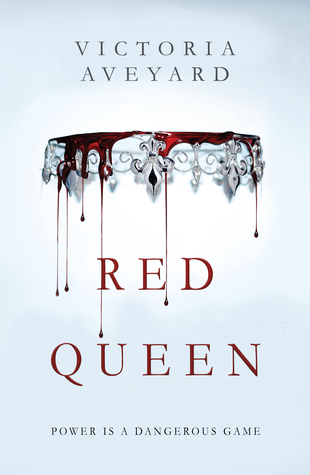 Rating: A-
Release Date: 2/10/15
Synopsis:
The poverty stricken Reds are commoners, living under the rule of the Silvers, elite warriors with god-like powers.
To Mare Barrow, a 17-year-old Red girl from The Stilts, it looks like nothing will ever change.
Mare finds herself working in the Silver Palace, at the centre of
those she hates the most. She quickly discovers that, despite her red blood, she possesses a deadly power of her own. One that threatens to destroy Silver control.
But power is a dangerous game. And in this world divided by blood, who will win?
My thoughts on the book:
The Red Queen is a unique take on the class systems in Dystopian literature. The people are segregated by the color of their blood, and the people with red blood are ordinary humans. The people with silver blood have magic, and they are the upper echelon of society. It's very interesting to see what happens when red and silver blood meet and how horrified the Silvers are of change. Aveyard describes her world well, and the characters are well-developed and flawed. There is no real "good guy" in this book, and I like that. The story is complex, and there are a lot of curve balls thrown throughout the course of the novel. If you're looking for something more complex than your typical Dystopian, look no further.
Mare is the protagonist of the book, and while I rooted for her, she makes some horrible decisions. She is deceitful and spiteful and falls into the Silver lifestyle a bit too easily. Those faults make her very believable. Most people would do the same thing when they were thrust into a completely different lifestyle than the one they grew up in. She isn't a bad person, she is just confused. I really enjoyed reading from Mare's perspective, though she isn't the most reliable of narrators. I really like Cal, and I wish that things had gone differently with him. I can't wait to see what he does next and what his relationship with Mare ends up to be. The secondary characters all have unique personalities, too, and stand out in their own right.
The plot itself is fairly complex and full of surprises. The novel itself is full of intrigue, and there are tons of betrayals to keep you guessing who is messing with whom. The pacing is perfect, and I was hooked from the first page. I read this entire novel in one sitting. I just wish the ending had been a bit happier. I was hoping for something hopeful. However, the next book is going to be super adventurous, I can tell already. The main questions raised in this book were answered in the end, though, and the world-building was perfect. I could easily picture the world Aveyard created.
Overall, I'd recommend this book to Dystopian fans who are looking for something a little more complex than the normal revolutionary fare. There is no absolute good, and the greyness of everything is refreshing. Give Red Queen a try. You won't be sorry.
Pre-Order Red Queen