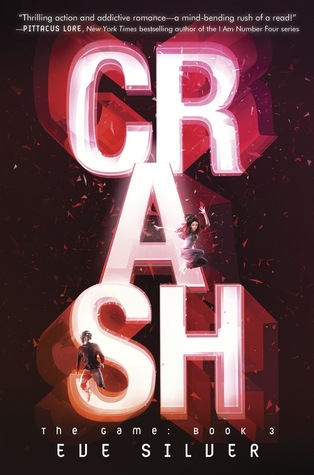 Rating: A-
Release Date: 6/9/15
Synopsis:
A thrilling action/suspense novel for fans of The Fifth Wave about contemporary teens pulled in and out of an alternate reality where battling aliens is more than a game—it's life and death.
Miki's life is falling apart around her. Her dad and best friend are lying in the hospital. The Game is glitching, making missions more frequent and more deadly. And someone close to her is waiting for the right moment to betray her.
Miki feels like she's hanging on by a thread and the only thing keeping her tethered is Jackson's hand in hers. Yet telling him how much she needs him, how much she loves him, feels like the biggest challenge of all. And if Miki really wants the missions to end for everyone, she'll have to let go and be ready to fight when the walls between the Game and reality come crashing down. Because if there's one thing she's learned, it's that she's got a whole lot left to lose.
Crash is the pulse-pounding conclusion to the Game trilogy fans won't want to miss.
My thoughts on the book:
Crash is a fantastic ending to this trilogy. It's fast paced and full of action and adventure. The characters grow even more, and the ending itself is satisfying. The romance is sweet, and there are a lot of plot twists. I've been a fan of this trilogy from the beginning because of its unique premise, and Silver finishes the series as strongly as she started it.
Miki is a great narrator and a completely relatable character. She is flawed and battles with depression and anxiety, which I love. She shows her strength differently than characters who don't have these problems, but she is still very strong. I think it's so important for people to know you can be strong, even if you do have to fight a mental illness. Sometimes you're stronger because of that than you would be if you didn't have the illness. Jackson opens up some in this book, and I really enjoyed getting to know more about him. Lizzie is an intriguing character, and she added some mystery to the last two novels.
The plot itself is full of twist, turns, and action. There is a lot going on in this book, and Silver does a good job keeping the mystery alive. The big reveal didn't surprise me that much, but it wasn't completely obvious either. It made perfect sense. One part bothered me, and that was when Jackson changes his mind suddenly. I don't want to say more than that to spoil it for anyone, but that part doesn't seem very realistic. Other than that, the plot was solid and the ending was satisfying.
Overall, I'd recommend this book and series to anyone who is looking for a fun, exciting, and unique sci-fi read.
Pre-order Crash