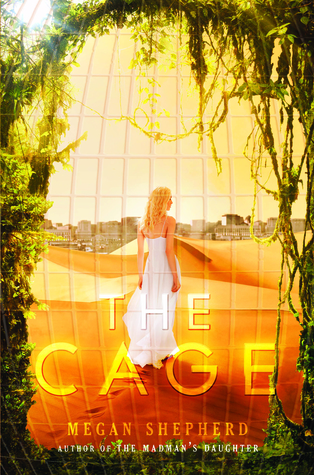 Rating: A-
Release Date: 5/26/15
Synopsis:
The Maze Runner
meets Scott Westerfeld in this gripping new series about teens held captive in a human zoo by an otherworldly race. From Megan Shepherd, the acclaimed author of
The Madman's Daughter
trilogy.
When Cora Mason wakes in a desert, she doesn't know where she is or who put her there. As she explores, she finds an impossible mix of environments—tundra next to desert, farm next to jungle, and a strangely empty town cobbled together from different cultures—all watched over by eerie black windows. And she isn't alone.
Four other teenagers have also been taken: a beautiful model, a tattooed smuggler, a secretive genius, and an army brat who seems to know too much about Cora's past. None of them have a clue as to what happened, and all of them have secrets. As the unlikely group struggles for leadership, they slowly start to trust each other. But when their mysterious jailer—a handsome young guard called Cassian—appears, they realize that their captivity is more terrifying than they could ever imagine: Their captors aren't from Earth. And they have taken the five teenagers for an otherworldly zoo—where the exhibits are humans.
As a forbidden attraction develops between Cora and Cassian, she realizes that her best chance of escape might be in the arms of her own jailer—though that would mean leaving the others behind. Can Cora manage to save herself and her companions? And if so . . . what world lies beyond the walls of their cage?
My thoughts on the book:
The Cage is the weirdest book I have read in awhile, and I mean that in a good way. It was so strange, and I felt like the Kindred were messing with my head, too. Shepherd created a really complex and creepy world, and she was able to give each character his or her own voice when a chapter was being told from his or her POV. The switching viewpoints didn't bother me like they often times do, and the plot was full of twists and turns. The characters were complicated, realistic, and flawed. I'm really looking forward to this sequel.
The character development was pretty top notch, in my opinion. Each character had a distinct personality and their own voice. Furthermore, they all had complicated and messy pasts which formed how they interacted with one another. None of the main or secondary characters really felt like stock characters to me... not even the Kindred, even though they weren't supposed to show emotion. I thought that Cora was really strong, though she struggled with being brave sometimes. That made her seem more realistic than someone who was constantly strong. I also adored Cassian, even though I probably shouldn't. I can't wait to get to know him better, though. Lucky annoyed me quite a bit, and I really hope the author isn't planning to set up a love triangle.
The plot was complex, and the big reveal actually shocked me. That rarely happens for me in books, but this one was surprising. Looking back, it made sense, but I definitely didn't see it coming. The pacing was pretty fast, and I flew through the ending. Shepherd did a good job with the world-building, too, and I could clearly picture the different biomes. The rules of the world were a bit confusing, even at the end, but answers were slowly being given. I feel like the next book will answer a lot more questions. The ending tied up a lot of the issues in the novel, but was also kind of a cliffhanger, which I didn't care for. I hate cliffhangers, and now I have to wait a whole year to see what happens. Sigh.
Overall, I'd recommend this book to anyone who is looking for something unique in the YA Sci-Fi genre. This is an enjoyable book, and it will definitely keep you on your toes as you try to figure out what, exactly is happening and why.
Pre-order The Cage