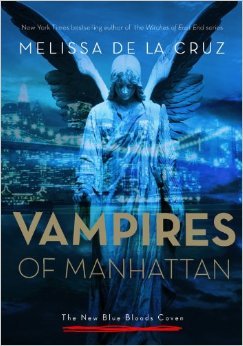 Rating: D
Release Date: 7/7/14
Synopsis:
The Vampires of Manhattan is "hipster horror"--the memorable characters from her Blue Bloods series are older and cooler than before, trying to build "Millennial" lives in the bustle of Manhattan while battling forces of evil and, of course, each other.
Hero of this sexy, paranormal action tale is Oliver Hazard-Perry, former human conduit, and Manhattan's only human-turned-vampire, now the head of the Blue Bloods Coven. When his all-too-human lover is found murdered on the eve of the coven's annual Four Hundred Ball--a celebration meant to usher in a new era in vampire society, and to mark the re-unification of the Coven after decades of unrest and decay--Oliver is devastated.
Now, not only is he trying to create a new world order for the immortal elite, he's the prime suspect and is stalked by the newly installed head of the vampire secret police. Because according to the new rules, vampires who take human life can now be executed. Burned.
How can an immortal sentenced to die fight back? He has to find the killer--and the answers lie deep in vampire lore.
My thoughts on the book:
I was pretty excited for this new series, even though I'm not a huge fan of Oliver's. I really enjoyed most of the Blue Bloods books, though, and I was looking forward to returning to that world. I didn't really like the
Hellhounds
' books, but I was really hoping that de la Cruz wouldn't let me down again. Unfortunately, she did let me down. I had to force myself to finish this novel. It seemed to drag on forever.
In the Blue Bloods series, I always thought Oliver was whiny and needy. Well that hasn't really changed in this series. Only now, he's whiny, needy, and
conceited
. He's just annoying, and I couldn't make myself root for him. Finn also sucks and she is very weak and 2 dimensional. I really couldn't stand her. Ara is just gross. I didn't like her, either. She is also obnoxious and just boring. She likes to think she is kick-ass, but she's not.
The plot isn't really that intriguing. It's the same plot as a billion other books have. People get killed. Lead characters must find villain before the world as we know it ends. I think I would have been more concerned if I had actually liked some of the inhabitants of said world. As it stood, I just didn't really care what happened. The romance is
lukewarm
to cold, and a bit of a snoozefest. The ending is whatever. I really didn't care by that point, so it didn't stand out to me.
Overall, I'd say skip this book unless you are completely obsessed with Oliver and the Blue Bloods series. He isn't quite the same character as he was in the first series, but if you love him, then you should like this series okay.