Stacking the Shelves is a weekly meme hosted by
Tynga's Reviews
! This meme showcases the books received, bought, or checked out from the library over the past week.
For Review: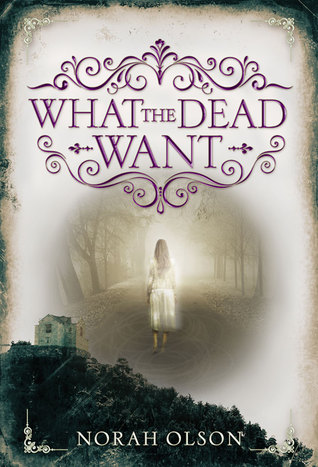 What the Dead Want
By: Norah Olson
Release Date: 7/26/16
Synopsis:
16 -year-old Gretchen takes photographs to understand the world around her, a passion her mother Mona fostered and encouraged when she was still around. Since her mom disappeared years ago, Gretchen and her dad have lived on their own in New York City, haunted by Mona's absence.
When Gretchen's great aunt Esther calls unexpectedly to tell her that she has inherited the pre-Civil War mansion on her mother's side of the family in upstate New York, Gretchen understands nothing except that her aunt needs her help. But what she finds there is beyond her imagination. The house is crumbling apart, filled with stacks of papers and journals from decades, even centuries past, and it's crawling with rodents. It's also full of secrets and a legacy of racism and violence so reprehensible that the ghosts of the past are exacting revenge on the living.
Somehow the mystery of Mona's disappearance and the atrocities that happened on the land during the Civil War are inextricably intertwined, and it's up to Gretchen to figure out how…before even more lives are lost.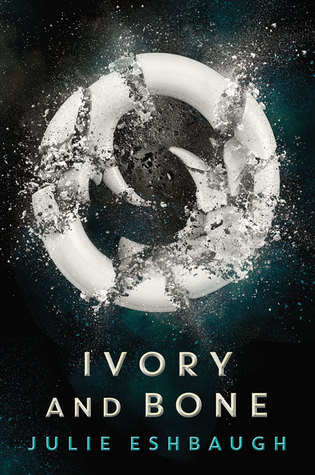 Ivory and Bone
By: Julie Eshbaugh
Release Date: 6/14/16
Synopsis:
A prehistoric fantasy—with allusions to Pride and Prejudice.
Hunting, gathering, and keeping his family safe—that's the life seventeen-year-old Kol knows. Then bold, enigmatic Mya arrives from the south with her family, and Kol is captivated. He wants her to like and trust him, but any hopes of impressing her are ruined when he makes a careless—and nearly grave—mistake. However, there's something more to Mya's cool disdain…a history wrought with loss that comes to light when another clan arrives. With them is Lo, an enemy from Mya's past who Mya swears has ulterior motives.
As Kol gets to know Lo, tensions between Mya and Lo escalate until violence erupts. Faced with shattering losses, Kol is forced to question every person he's trusted. One thing is for sure: this was a war that Mya or Lo—Kol doesn't know which—had been planning all along.
Unplugged
By: Donna Freitas
Release Date: 6/21/16
Synopsis:
The first book in a provocative new series from acclaimed author Donna Freitas—Feed for a new generation.
Humanity is split into the App World and the Real World—an extravagant virtual world for the wealthy and a dying physical world for the poor. Years ago, Skylar Cruz's family sent her to the App World for a chance at a better life.
Now Skye is a nobody, a virtual sixteen-year-old girl without any glamorous effects or expensive downloads to make her stand out in the App World. Yet none of that matters to Skye. All she wants is a chance to unplug and see her mother and sister again.
But when the borders between worlds suddenly close, Skye loses that chance. Desperate to reach her family, Skye risks everything to get back to the physical world. Once she arrives, however, she discovers a much larger, darker reality than the one she remembers.
In the tradition of M. T. Anderson's Feed and Scott Westerfeld's Uglies, Unplugged kicks off a thrilling and timely sci-fi series for teens from an award-winning writer.
Makoons
By: Louise Erdrich
Release Date: 8/9/16
Synopsis:
In the sequel to Chickadee, acclaimed author Louise Erdrich continues her award-winning Birchbark House series with the story of an Ojibwe family in nineteenth-century America.
Named for the Ojibwe word for little bear, Makoons and his twin, Chickadee, have traveled with their family to the Great Plains of Dakota Territory. There they must learn to become buffalo hunters and once again help their people make a home in a new land. But Makoons has had a vision that foretells great challenges—challenges that his family may not be able to overcome.
Based on Louise Erdrich's own family history, this fifth book in the series features black-and-white interior illustrations, a note from the author about her research, as well as a map and glossary of Ojibwe terms.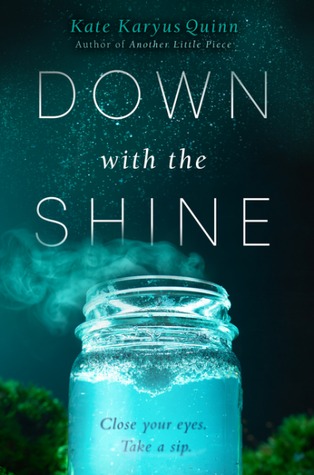 Down with the Shine
By: Kate Karyus Quinn
Release Date: 4/26/16
Synopsis:
There's a reason they say "be careful what you wish for." Just ask the girl who wished to be thinner and ended up smaller than Thumbelina, or the boy who asked for "balls of steel" and got them-literally. And never wish for your party to go on forever. Not unless you want your guests to be struck down by debilitating pain if they try to leave.
These are things Lennie only learns when it's too late-after she brings some of her uncles' moonshine to a party and toasts to dozens of wishes, including a big wish of her own: to bring back her best friend, Dylan, who was abducted and murdered six months ago.
Lennie didn't mean to cause so much chaos. She always thought her uncles' moonshine toast was just a tradition. And when they talked about carrying on their "important family legacy," she thought they meant good old-fashioned bootlegging.
As it turns out, they meant granting wishes. And Lennie has just granted more in one night than her uncles would grant in a year.
Now she has to find a way to undo the damage. But once granted, a wish can't be unmade...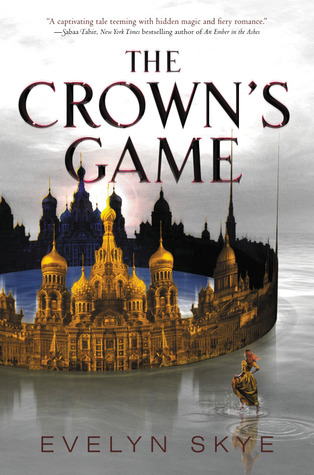 The Crown's Game
By: Evelyn Skye
Release Date: 5/17/16
Synopsis:
Vika Andreyeva can summon the snow and turn ash into gold. Nikolai Karimov can see through walls and conjure bridges out of thin air. They are enchanters—the only two in Russia—and with the Ottoman Empire and the Kazakhs threatening, the Tsar needs a powerful enchanter by his side.
And so he initiates the Crown's Game, an ancient duel of magical skill—the greatest test an enchanter will ever know. The victor becomes the Imperial Enchanter and the Tsar's most respected adviser. The defeated is sentenced to death.
Raised on tiny Ovchinin Island her whole life, Vika is eager for the chance to show off her talent in the grand capital of Saint Petersburg. But can she kill another enchanter—even when his magic calls to her like nothing else ever has?
For Nikolai, an orphan, the Crown's Game is the chance of a lifetime. But his deadly opponent is a force to be reckoned with—beautiful, whip smart, imaginative—and he can't stop thinking about her.
And when Pasha, Nikolai's best friend and heir to the throne, also starts to fall for the mysterious enchantress, Nikolai must defeat the girl they both love... or be killed himself.
As long-buried secrets emerge, threatening the future of the empire, it becomes dangerously clear... the Crown's Game is not one to lose.
Mercy
By: Rebecca Lim
Release Date: 4/20/16
Synopsis:
Mercy wakes on a school bus bound for Paradise, a small town where everyone knows everyone else's business... Or thinks they do. But Mercy has a secret life. She is an angel, doomed to return repeatedly to Earth, taking on a new human form each time she does, in an effort to resolve a cataclysmic rift between heavenly beings.
In Paradise, Mercy meets Ryan, an eighteen-year-old whose sister was kidnapped two years ago and is presumed dead. When another girl is also taken, Mercy knows she has to act quickly and use extraordinary powers to rescue her, even if it means exposing her true identity.
An electric combination of angels, mystery and romance,
Mercy
is the first book in a major new series.
Exile
By: Rebecca Lim
Release Date: 5/18/16
Synopsis:
An electric combination of angels, mystery and romance, EXILE is the breathtaking sequel to MERCY in a major new paranormal romance series.
There's something very wrong with me. When I wake up, I could be anyone…
An angel in exile, Mercy is doomed to return repeatedly to Earth, taking on a new human form each time she does. Now she "wakes" as unhappy teen Lela, a girl caring for a dying mother but never herself.
As her shattered memory begins to return, Mercy remembers Ryan, the boy she fell in love with in another life, and Luc, the angel haunting her dreams. Will Mercy risk Lela's life to be reunited with her heart's true desire?
An electric combination of angels, mystery and romance, Exile is the second book in the spellbinding MERCY series.
The Queen of Blood
By: Sarah Beth Durst
Release Date: 9/20/16
Synopsis:
An idealistic young student and a banished warrior become allies in a battle to save their realm in this first book of a mesmerizing epic fantasy series, filled with political intrigue, violent magic, malevolent spirits, and thrilling adventure
Everything has a spirit: the willow tree with leaves that kiss the pond, the stream that feeds the river, the wind that exhales fresh snow . . .
But the spirits that reside within this land want to rid it of all humans. One woman stands between these malevolent spirits and the end of humankind: the queen. She alone has the magical power to prevent the spirits from destroying every man, woman, and child. But queens are still just human, and no matter how strong or good, the threat of danger always looms.
With the position so precarious, young women are chosen to train as heirs. Daleina, a seemingly quiet academy student, is under no illusions as to her claim to the throne, but simply wants to right the wrongs that have befallen the land. Ven, a disgraced champion, has spent his exile secretly fighting against the growing number of spirit attacks. Joining forces, these daring partners embark on a treacherous quest to find the source of the spirits' restlessness—a journey that will test their courage and trust, and force them to stand against both enemies and friends to save their land . . . before it's bathed in blood.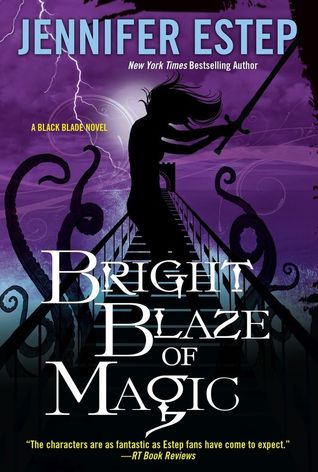 Bright Blaze of Magic
By: Jennifer Estep
Release Date: 4/26/16
Synopsis:
Bad Things Always Come In Threes…
As a thief, I'm good at three things: hiding in the shadows, getting in and out unseen, and uncovering secrets. I put these skills to work for the Sinclair Family, one of the magical mobs that run the tourist town of Cloudburst Falls.
Everyone knows Victor Draconi wants to take over all the other Families--and kill every last Sinclair. What they don't know is that I'm on to him, and no way will I let the man who murdered my mom get away with hurting all the other people I care about. Especially when I've got places to break into, stuff to steal, and Devon Sinclair fighting right by my side…
"An adventurous ride you will never want to get off." --#1 New York Times bestselling author Jennifer L. Armentrout on Cold Burn of Magic
What did you stack your shelf with this week?