Stacking the Shelves is a weekly meme hosted by
Tynga's Reviews
! This meme showcases the books received, bought, or checked out from the library over the past week.
Sorry for the late post. I had a busy weekend and just got around to getting all my new goodies together.
For Review:
A Wicked Thing
By: Rhiannon Thomas
Release Date: 2/24/15
A big thank you to Harper Teen and Edelweiss!
Synopsis:
A spinning wheel. A prick of a finger. A terrible curse.
One hundred years after falling asleep, Princess Aurora wakes up to the kiss of a handsome prince and a broken kingdom that has been dreaming of her return. All the books say that she should be living happily ever after. But as Aurora understands all too well, the truth is nothing like the fairytale.
Her family is long dead. Her "true love" is a kind stranger. And her whole life has been planned out by political foes while she slept. Everyone expects Aurora to marry her betrothed and restore magic and peace to the kingdom before revolution tears it apart. But after a lifetime spent locked in a tower for her own safety, Aurora longs for the freedom to make her own choices. When she meets a handsome rebel, he tempts her to abandon everything for a different kind of life.
As Aurora struggles to make sense of her new world, she begins to fear that the curse has left its mark on her, a fiery and dangerous thing that might be as wicked as the witch who once ensnared her.
With her wedding day drawing near, Aurora must make the ultimate decision on how to save her kingdom: marry the prince or run.
Red Queen
By: Victoria Aveyard
Release Date: 2/10/15
A big thank you to Harper Teen and Edelweiss!
Synopsis:
Mare Barrow's world is divided by blood--those with red and those with silver. Mare and her family are lowly Reds, destined to serve the Silver elite whose supernatural abilities make them nearly gods. Mare steals what she can to help her family survive, but when her best friend is conscripted into the army she gambles everything to win his freedom. A twist of fate leads her to the royal palace itself, where, in front of the king and all his nobles, she discovers a power of her own--an ability she didn't know she had. Except . . . her blood is Red.
To hide this impossibility, the king forces her into the role of a lost Silver princess and betroths her to one of his own sons. As Mare is drawn further into the Silver world, she risks her new position to aid the Scarlet Guard--the leaders of a Red rebellion. Her actions put into motion a deadly and violent dance, pitting prince against prince--and Mare against her own heart.
From debut author Victoria Aveyard comes a lush, vivid fantasy series where loyalty and desire can tear you apart and the only certainty is betrayal.
Stitching Snow
By: R.C. Lewis
Release Date: 10/14/14
A big thank you to Disney-Hyperion and NetGalley!
Synopsis:
Princess Snow is missing.
Her home planet is filled with violence and corruption at the hands of King Matthias and his wife as they attempt to punish her captors. The king will stop at nothing to get his beloved daughter back—but that's assuming she wants to return at all.
Essie has grown used to being cold. Temperatures on the planet Thanda are always sub-zero, and she fills her days with coding and repairs for the seven loyal drones that run the local mines.
When a mysterious young man named Dane crash-lands near her home, Essie agrees to help the pilot repair his ship. But soon she realizes that Dane's arrival was far from accidental, and she's pulled into the heart of a war she's risked everything to avoid. With the galaxy's future—and her own—in jeopardy, Essie must choose who to trust in a fiery fight for survival.
Purchased: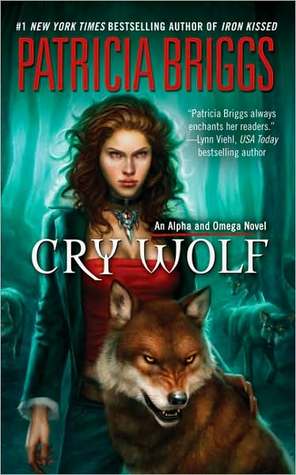 Cry Wolf
By: Patricia Briggs
Synopsis:
Anna never knew werewolves existed, until the night she survived a violent attack... and became one herself. After three years at the bottom of the pack, she'd learned to keep her head down and never, ever trust dominant males. Then Charles Cornick, the enforcer—and son—of the leader of the North American werewolves, came into her life.
Charles insists that not only is Anna his mate, but she is also a rare and valued Omega wolf. And it is Anna's inner strength and calming presence that will prove invaluable as she and Charles go on the hunt in search of a rogue werewolf—a creature bound in magic so dark that it could threaten all of the pack.
Auracle
By: Gina Rosati
Synopsis:
16 year old Anna Rogan has a secret she's only shared with her best friend, Rei; she can astrally project out of her body, allowing her spirit to explore the world and the far reaches of the universe.
When there's a fatal accident and her classmate Taylor takes over Anna's body, what was an exhilarating distraction from her repressive home life threatens to become a permanent state. Faced with a future trapped in another dimension, Anna turns to Rei for help. Now the two of them must find a way to get Anna back into her body and stop Taylor from accusing an innocent friend of murder. Together Anna and Rei form a plan but it doesn't take into account the deeper feelings that are beginning to grow between them.
Mystic City
By: Theo Lawrence
Synopsis:
For fans of Matched, The Hunger Games, X-Men, and Blade Runner comes a tale of a magical city divided, a political rebellion ignited, and a love that was meant to last forever. Book One of the Mystic City Novels.
Aria Rose, youngest scion of one of Mystic City's two ruling rival families, finds herself betrothed to Thomas Foster, the son of her parents' sworn enemies. The union of the two will end the generations-long political feud - and unite all those living in the Aeries, the privileged upper reaches of the city, against the banished mystics who dwell below in the Depths.
But Aria doesn't remember falling in love with Thomas; in fact, she wakes one day with huge gaps in her memory. And she can't conceive why her parents would have agreed to unite with the Fosters in the first place.
Only when Aria meets Hunter, a gorgeous rebel mystic from the Depths, does she start to have glimmers of recollection - and to understand that he holds the key to unlocking her past. The choices she makes can save or doom the city - including herself.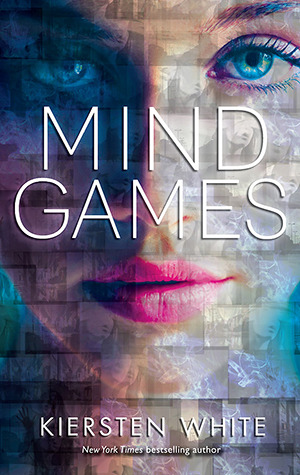 Mind Games
By: Kiersten White
Synopsis:
Fia was born with flawless instincts. Her first impulse, her gut feeling, is always exactly right. Her sister, Annie, is blind to the world around her—except when her mind is gripped by strange visions of the future.
Trapped in a school that uses girls with extraordinary powers as tools for corporate espionage, Annie and Fia are forced to choose over and over between using their abilities in twisted, unthinkable ways…or risking each other's lives by refusing to obey.
In a stunning departure from her New York Times bestselling Paranormalcy trilogy, Kiersten White delivers a slick, edgy, heartstoppingly intense psychological thriller about two sisters determined to protect each other—no matter the cost.
From the Library:
White Hot Kiss
By: Jennifer L. Armentrout
Synopsis:
One kiss could be the last.
Seventeen-year-old Layla just wants to be normal. But with a kiss that kills anything with a soul, she's anything but normal. Half demon, half gargoyle, Layla has abilities no one else possesses.
Raised among the Wardens—a race of gargoyles tasked with hunting demons and keeping humanity safe—Layla tries to fit in, but that means hiding her own dark side from those she loves the most. Especially Zayne, the swoon-worthy, incredibly gorgeous and completely off-limits Warden she's crushed on since forever.
Then she meets Roth—a tattooed, sinfully hot demon who claims to know all her secrets. Layla knows she should stay away, but she's not sure she wants to—especially when that whole no-kissing thing isn't an issue, considering Roth has no soul.
But when Layla discovers she's the reason for the violent demon uprising, trusting Roth could not only ruin her chances with Zayne…it could brand her a traitor to her family. Worse yet, it could become a one-way ticket to the end of the world.
Promise Bound
By: Anne Greenwood Brown
Synopsis:
Calder and Lily never imagined falling in love would mean breaking apart. But ever since Lily started wearing a glass pendant that once belonged to Nadia, Calder's adoptive mother, she's been having vivid dreams of what life was like for the mermaid matriarch. In fact, she's been dreaming as if she
were
Nadia! And Nadia, it seems, made a promise before her death. A promise to reunite Calder's biological mother with her son. Lily knows merfolk are bound to keep their promises. Calder's not buying into it, though. He chalks up the dreams to stress. He wants Lily to focus on the future—
their
future, not the past. Which forces Lily to send Calder away. Calder goes, feeling rejected and more than a little tempted to revert to his hunting ways.
What both of them overlook is the present: Calder's sisters, Maris and Pavati, are fighting for control of the mermaid clan, and now that Lily and her dad have transformed into mer-creatures, both mermaids vie for daughter and father as allies. Which of the two mermaids can be trusted? Will Lily make costly mistakes, forcing her to descend to the depths of Lake Superior? And if Calder returns, will he be the same merman Lily grew to love? The stakes are high, with many lives at risk, but Calder and Lily must confront the past as well as their darkest impulses if they want a chance at being together.
Perfect Ruin
By: Lauren DeStefano
Synopsis:
On Internment, the floating island in the clouds where 16-year-old Morgan Stockhour lives, getting too close to the edge can lead to madness. Even though Morgan's older brother, Lex, was a Jumper, Morgan vows never to end up like him. She tries her best not to mind that her life is orderly and boring, and if she ever wonders about the ground, and why it is forbidden, she takes solace in best friend Pen and her betrothed, Basil.
Then a murder, the first in a generation, rocks the city. With whispers swirling and fear on the wind, Morgan can no longer stop herself from investigating, especially when she meets Judas. He is the boy being blamed for the murder — betrothed to the victim — but Morgan is convinced of his innocence. Secrets lay at the heart of Internment, but nothing can prepare Morgan for what she will find — or who she will lose.
Blurred
By: Tara Fuller
Synopsis:
Cash is haunted by things. Hungry, hollow things. They only leave him alone when Anaya, Heaven's beautiful reaper, is around. Cash has always been good with girls, but Anaya isn't like the others. She's dead. And with his deteriorating health, Cash might soon be as well.
Anaya never breaks the rules, but the night of the fire she recognized part of Cash's soul—and doomed him to something worse than death. Cash's soul now resides in an expired body, making him a shadow walker—a rare, coveted being that can walk between worlds. A being creatures of the underworld would do anything to get their hands on.
The lines between life and death are blurring, and Anaya and Cash find themselves falling helplessly over the edge. Trapped in a world where the living don't belong, can Cash make it out alive?