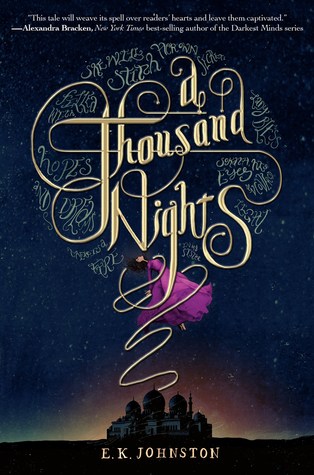 Rating: F
Release Date: 10/6/15
Synopsis:
Lo-Melkhiin killed three hundred girls before he came to her village, looking for a wife. When she sees the dust cloud on the horizon, she knows he has arrived. She knows he will want the loveliest girl: her sister. She vows she will not let her be next.
And so she is taken in her sister's place, and she believes death will soon follow. Lo-Melkhiin's court is a dangerous palace filled with pretty things: intricate statues with wretched eyes, exquisite threads to weave the most beautiful garments. She sees everything as if for the last time.But the first sun rises and sets, and she is not dead. Night after night, Lo-Melkhiin comes to her and listens to the stories she tells, and day after day she is awoken by the sunrise. Exploring the palace, she begins to unlock years of fear that have tormented and silenced a kingdom. Lo-Melkhiin was not always a cruel ruler. Something went wrong.
Far away, in their village, her sister is mourning. Through her pain, she calls upon the desert winds, conjuring a subtle unseen magic, and something besides death stirs the air.
Back at the palace, the words she speaks to Lo-Melkhiin every night are given a strange life of their own. Little things, at first: a dress from home, a vision of her sister. With each tale she spins, her power grows. Soon she dreams of bigger, more terrible magic: power enough to save a king, if she can put an end to the rule of a monster.
My thoughts on the book:
This book has an amazing premise, and I was so excited to read it. However, it really fell flat for me. The writing is awful. The author doesn't use contractions. at. all. I almost pulled my hair out by the end of the book. The story is a bit convoluted. The characters are all the same, and have the same voice, so when conversations were had, I couldn't even tell who was talking. The ending is meh. The pacing is slow. This was just a dud. I say check it out from the library first. Some people really loved it, but I really hated it.
The two sisters are just really boring. I can't even remember their names, or if they had names. I dozed off reading this book several times. Also, they were exactly alike. They talked the same and acted similarly. It was so dull. I didn't like either of them. Lo-Melkhiin is also boring. This villain was supposed to be terrifying, but he was a total snoozefest. I really didn't care if he killed everyone and everything. Maybe the world could start over with more interesting characters then.
The writing was horrendous. In a lot of parts it was unclear, the narrative just didn't fit with the story it was supposed to be re-telling, and the lack of contractions made me want to die. I was hoping Lo-Melkhiin would come for me by the 50% mark, just so I could be put out of my misery. The pacing was so slow that I thought the book would never end. The world-building was unclear at best and non-existent at worst.
Overall, I'd recommend skipping this book, but since some people did like it, I say check it out from the library. If you enjoy it, that's great. If you're like me and lack of contractions, awful writing, and vapid characters make you want to die, then pass on this one.