Title:
THE IMMORTAL HEIGHTS
Release Date:
October 13, 2015
Formats:
Hardcover, eBook, Audiobook
In a pursuit that has spanned continents, Iolanthe, Titus, and their friends have always managed to remain one step ahead of the forces of Atlantis. But now the Bane, the monstrous tyrant who bestrides the entire mage world, has issued his ultimatum: Titus must hand over Iolanthe, or watch as his entire realm is destroyed in a deadly rampage. Running out of time and options, Iolanthe and Titus must act decisively to deliver a final blow to the Bane, ending his reign of terror for good.
However, getting to the Bane means accomplishing the impossible—finding a way to infiltrate his crypt in the deepest recesses of the most ferociously guarded fortress in Atlantis. And everything is only made more difficult when new prophecies come to light, foretelling a doomed effort....
Iolanthe and Titus will put their love and their lives on the line. But will it be enough?
With The Immortal Heights, Sherry Thomas brings the acclaimed Elemental Trilogy to its breathtaking conclusion.
I absolutely fell in love with this story and all of its characters in the first novel,
The Burning Sky, and I knew that I would be with this trilogy until the very end. The Immortal Heights did not disappoint. It was one of the best trilogy endings I've read this year. While the pacing was a bit slow to start with, the character growth, continued world-building, and lovely narrative more than made up for it. I couldn't recommend this trilogy highly enough.
Iolanthe and Titus were two of my absolute favorite YA leading characters. They were a fantastic couple, and the power dynamics constantly switched between them, painting them as equals. Iolanthe is a brilliant leading lady, and she's strong, smart, and powerful. Even with all of the nonstop trouble she faced, she managed to still evolve throughout the novel, and the big surprise to do with her shocked me to my core. I did not see that coming. Titus also grew throughout the novel, and I always loved how he battled between being a "normal" hero and a "princely" hero. I also enjoyed getting to know more about Khaskhari. He was a bit of a mystery up until about the middle of the last installment, so learning about him was a real treat.
The writing, for the most part, was brilliant, though the use of "his person" or "her person" instead of the word body or anything else STILL annoyed me. Nonetheless, the author stayed true to form, and I admire that. The descriptions were beautiful and completely immersing. The balancing between the real world and the fantasy world was interesting throughout the entire series, how they interacted, and how they stayed separate at the same time. Thomas did an excellent job with that in this novel, too. The pacing at the first part dragged for me a bit, but it was still full of suspense, which kept me reading. About halfway through, the pages flew by, and after an emotional ending, I was left wondering what just happened to the last half of the book. I was in disbelief that one of my favorite trilogies was truly over.
Overall, I really adored this book and trilogy. If you like fantasy at all, you need to read this series. Fans of Harry Potter will eat this up. If you haven't read any of these yet, pick up The Burning Sky. You won't be sorry.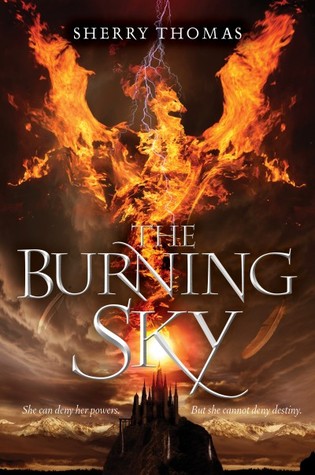 Release Date:
September 17, 2013
Formats:
Hardcover, Paperback, eBook, Audiobook
It all began with a ruined elixir and a bolt of lightning.
Iolanthe Seabourne is the greatest elemental mage of her generation—or so she's been told. The one prophesied for years to be the savior of The Realm. It is her duty and destiny to face and defeat the Bane, the most powerful tyrant and mage the world has ever known. This would be a suicide task for anyone, let alone a reluctant sixteen-year-old girl with no training.
Guided by his mother's visions and committed to avenging his family, Prince Titus has sworn to protect Iolanthe even as he prepares her for their battle with the Bane. But he makes the terrifying mistake of falling in love with the girl who should have been only a means to an end. Now, with the servants of the tyrant closing in, Titus must choose between his mission—and her life.
The Burning Sky
—the first book in the Elemental Trilogy—is an electrifying and unforgettable novel of intrigue and adventure.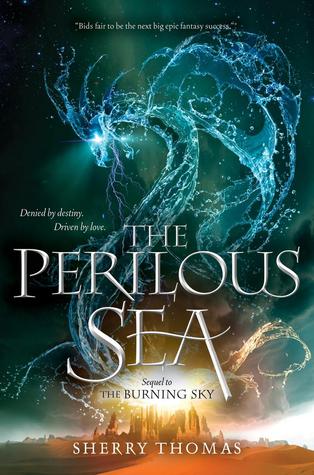 Release Date:
September 16, 2014
Formats:
Hardcover, Paperback, eBook, Audiobook
After spending the summer away from each other, Titus and Iolanthe (still disguised as Archer Fairfax) are eager to return to Eton College to resume their training to fight the Bane. Although no longer bound to Titus by a blood oath, Iolanthe is more committed than ever to fulfilling her destiny—especially with the agents of Atlantis quickly closing in.
Soon after arriving at school, though, Titus makes a shocking discovery, one that makes him question everything he previously believed about their mission. Faced with this devastating realization, Iolanthe is forced to come to terms with her new role, while Titus must choose between following his mother's prophecies—and forging a divergent path to an unknowable future.
About the Author:
Sherry Thomas is one of the most acclaimed romance authors working today. Her books regularly receive starred reviews from trade publications and are frequently found on best-of-the-year lists. She is also a two-time winner of Romance Writers of America's prestigious RITA® Award.
English is Sherry's second language—she has come a long way from the days when she made her laborious way through Rosemary Roger's
Sweet Savage Love
with an English-Chinese dictionary. She enjoys digging down to the emotional core of stories. And when she is not writing, she thinks about the zen and zaniness of her profession, plays computer games with her sons, and reads as many fabulous books as she can find.
Sherry's next book, The Immortal Heights volume three of her young adult fantasy trilogy, will be available fall 2015.
Author photo by the lovely and talented Jennifer Sparks Harriman at
Sparks Studio
.
The Giveaway!!!!
1 winner will receive. The Burning Sky, The Perilous Sea, The Immortal Heights, and a handmade solid lotion bar and some homemade face scrubs, plus a burning sky bag. US Only
2 winners will receive The Burning Sky, The Perilous Sea, and The Immortal Heights US Only