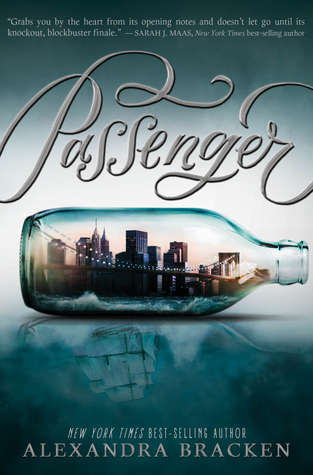 Rating: B+
Synopsis:
Passage, n.
i. A brief section of music composed of a series of notes and flourishes.
ii. A journey by water; a voyage.
iii. The transition from one place to another, across space and time.
In one devastating night, violin prodigy Etta Spencer loses everything she knows and loves. Thrust into an unfamiliar world by a stranger with a dangerous agenda, Etta is certain of only one thing: she has traveled not just miles but years from home. And she's inherited a legacy she knows nothing about from a family whose existence she's never heard of. Until now.
Nicholas Carter is content with his life at sea, free from the Ironwoods—a powerful family in the colonies—and the servitude he's known at their hands. But with the arrival of an unusual passenger on his ship comes the insistent pull of the past that he can't escape and the family that won't let him go so easily. Now the Ironwoods are searching for a stolen object of untold value, one they believe only Etta, Nicholas' passenger, can find. In order to protect her, he must ensure she brings it back to them—whether she wants to or not.
Together, Etta and Nicholas embark on a perilous journey across centuries and continents, piecing together clues left behind by the traveler who will do anything to keep the object out of the Ironwoods' grasp. But as they get closer to the truth of their search, and the deadly game the Ironwoods are playing, treacherous forces threaten to separate Etta not only from Nicholas but from her path home... forever.
My thoughts on the book:
I'll admit that I wasn't a huge fan of Bracken's last series, but I couldn't resist requesting a time travel novel. Needless to say, I was pleasantly surprised. I thoroughly enjoyed this book, and I absolutely loved the characters. The pacing dragged on in a few places, then the ending was a major cliffhanger, which I didn't like too much, but the world-building was spectacular. The writing was well-done, and the descriptions were extremely vivid. I can't wait for the next installment in this series.
Etta was well-developed and a bit stubborn, but she wasn't illogical or rash. She's pretty strong for a YA female lead, and she managed to do that without being a brat. My favorite thing about her is that she actually had feelings and stopped in the middle of the chaos to feel them. I also liked that she had some kind of anxiety disorder because that stuff needs to be talked about more. As someone with GAD, I can appreciate a heroine who is strong but also struggles with panic attacks. Nicholas was a great leading man. He was a good complement to Etta, and he was a bit broken without being angsty. He was also a super strong character, and he was very complex. There were layers to his pain, but he was still willing to give life a chance. We could all learn a few lessons from that, I think. The secondary characters weren't as well-developed, but they felt like real people. We just didn't get to see them a lot. Hasan was a lot of fun, and I would have liked to have seen more of Alice.
The writing was engaging, and the plot was extremely well thought out. Everything tied together nicely, and almost everything made perfect sense. The plot twist at the end sent me reeling, though, and I'm not sure if it felt right or not, to be honest. I haven't really had time to absorb it yet, I think. The last 75% of the story lagged a bit until the very end (93%ish mark), where it moved at lightening speed and ended on a cliffhanger. I really didn't care for that too much. The world-building was well-done, and I could accept and understand the world that Bracken created. The author described each place beautifully, and the descriptions were so vivid that I felt like I was there with the characters. She really did her research/traveling for this book. Again, I like that the action paused when something awful happened to give the characters a chance to feel a full range of emotion. I hate when something that's supposed to be traumatizing happens and the characters just keep going and never deal with it. That's not realistic to me, and it really takes away from the story. Bracken is one of the few authors that I've seen actually let the characters feel before jumping back into the fray, and I appreciated that.
Overall, I'd recommend this book to anyone who is looking for a good time travel novel. Bracken's presentation of time travel is a bit different from the other books I've read on this topic, and the story itself is extremely interesting.