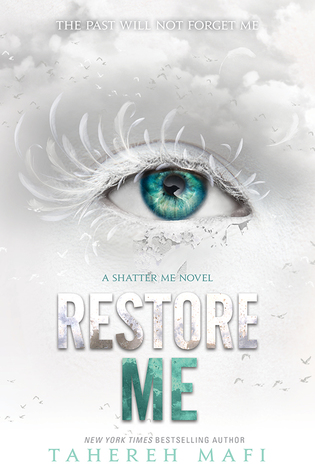 Rating: A+
Synopsis:
Juliette Ferrars thought she'd won. She took over Sector 45, was named the new Supreme Commander, and now has Warner by her side. But she's still the girl with the ability to kill with a single touch—and now she's got the whole world in the palm of her hand. When tragedy hits, who will she become? Will she be able to control the power she wields and use it for good?
My thoughts on the book:
I have to admit, I loved the ending of the Shatter Me (what I thought to be) trilogy so much that I was hesitant to revisit this world. I didn't know what was going to happen to my beloved characters, and I didn't want to see the lives they'd worked so hard for be upended again. However, I was intrigued. Most authors leave a happily ever after alone and don't revisit to let the readers know what happens after the "end of the story." That always irked me a bit because no one's story ends until their life ends, and sometimes it doesn't even end then, so how could a character's story just end at this really convenient spot? The nice, neat endings do offer a reader some comfort, a sense of closure, if you will. Clearly Mafi didn't want us to have closure with Juliette's story, though, because Juliette's story continues AFTER the happily ever after, and we find out that things aren't so happy... and that we don't know half as much about any of these characters as we thought we did.
Juliette got on my nerves a few times in this book, and I used to love her so much. I felt like she was a bit bratty at times, but I could understand her frustration at everyone underestimating her. I think she also underestimated herself, though, and needed to take advice instead of running off to prove she was a grown up. Warner disappointed me some in this book. He just, ugh, he is just so bad at peopling. He grew a lot in this installment, and I enjoyed that, but he broke my heart at times, too. Kenji was hilarious as usual, and I love some of the new characters. I was glad that I didn't have to see much of Adam in this novel, since he's not my favorite.
The writing was glorious, which is typical of Mafi. It felt different, though. It also showed how much Juliette had grown. No longer did she have disjointed sentences in her thinking. Her thoughts were more coherent, less desperate, and less broken. Some of the passages still blew me away, though. I think my favorite quote in the entire book was, "For years my goal was to minimize myself--to fold and refold myself into a polygon of nothingness, to be too insignificant to be remembered. I wanted to appear innocent; I was worried always about how my very existence was terrifying to others and I did everything in my power to diminish myself, my light, my soul. I wanted to desperately to placate the ignorant. I wanted so badly to appease the assholes who judged me without knowing me that I lost myself in the process. But now? Now, I laugh. Out loud. Now, I don't give a shit." By this point in the book, Juliette is turning into someone we can all be proud of. She's a strong woman and a force to be reckoned with.
The pacing was spot-on, and the big reveals kept me guessing. The ending was a cliffhanger, which I hate, so I am counting the days until the next book in the series comes out.
If I haven't said it before, I'll say it now: You need to read this series. These books change lives. They have given me strength when nothing else could. You need the Shatter Me series in your life.