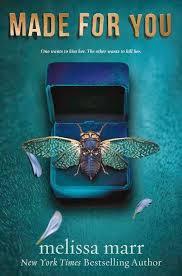 Rating: A
Release Date: Today!!
Synopsis:
Bestselling author of the Wicked Lovely books Melissa Marr's first contemporary YA novel is a twisted southern gothic tale of obsession, romance, and murder. A killer is obsessed with Eva Tilling. Can she stop him, or will he claim her?
When Eva Tilling wakes up in the hospital, she's confused—who in her sleepy little North Carolina town could have hit her with their car? And why? But before she can consider the question, she finds that she's awoken with a strange new skill: the ability to foresee people's deaths when they touch her. While she is recovering from the hit-and-run, Nate, an old flame, reappears, and the two must traverse their rocky past as they figure out how to use Eva's power to keep her friends—and themselves—alive. But while Eva and Nate grow closer, the killer grows increasingly frantic in his attempt to get to Eva.
For the first time, New York Times bestselling author Melissa Marr has applied her extraordinary talent to contemporary realism. Chilling twists, unrequited obsession, and high-stakes romance drive this Gothic, racy thriller—a story of small-town oppression and salvation. Melissa's fans, and every YA reader, will find its wild ride enthralling.
My thoughts on the book:
Made for You is an intriguing and thrilling mystery that will keep you guessing until the very end. Told from three different points of view, I was kept on the edge of my seat, wondering who would make it and who would not. The main characters are extremely well-developed and unique. The pacing is perfect, and Marr's writing is excellent. While I was able to guess who did it pretty early on, the author still had me second-guessing myself throughout the story. This is an excellent read.
Eva is the main character, and I really enjoyed reading from her perspective. She's independent and strong, and even though she's popular, she doesn't blindly follow the herd mentality. She makes her own rules as she goes. I didn't like her
romanticization
of the south and southern customs. As someone who grew up in the south, I found it to be a lot less charming and a lot more close-minded and terrible. Also, the cliches like "she's a strong southern woman" really got on my nerves. There are strong women everywhere, just like there are weak women everywhere. However, that just showed how Eva was raised - with southern pride. Grace is a fantastic character, too. She didn't get a lot of chapters to tell from her POV, but the few she got, she owned. She's from Philadelphia, and she views the small southern town more like I would. She's a unique character, and her loyalty and logic really stand out. "Judge," the killer's perspective is really freaking creepy. As an aspiring writer, I can't imagine (at this point, at least) being able to put myself in a dark enough place to make someone like Judge's POV seem realistic, but Marr did a great job with that. The killer's voice stood out as being his/her own (I don't want to spoil this for anyone), and it was believable. I was blown away by Marr's writing ability in Judge's chapters. As far as secondary characters go, the people closest to Eva are very well-developed. I really loved Nate, and her parents were adorable/great. Her other friends were a bit more cookie-cutter, but they still seem to have their own personalities.
The plot itself is intricately woven. The reader watches as Judge's obsession escalates with every murder. I was properly horrified for the majority of this novel. The more we learn about Judge, the more horrific things get. The pacing is spot on, and Marr makes sure the reader doesn't feel safe for long. After about the first 1/4 of the book, I could not put it down. I had to see what was going to happen next. While I had Judge's identity figured out pretty early on, I had no idea how things were going to end. The way the POVs were set up, any of the characters, including Eva, could die, and the story could easily continue. Because of this, I was completely hooked. The supernatural gift seems a bit random because it's never explained. However, I think that if someone actually got some weird gift after they received brain damage, it would probably play out a lot like Eva's ability to see people's deaths. In the real world, things like that just aren't explained, and that gives the novel an added bit of authenticity. I assume that a part of her brain was damaged, which caused another part to "activate," and that part of the brain hides dormant abilities. I'm no scientist, but that explanation worked for me and allowed me to achieve a willing suspension of disbelief. Also, I absolutely loved the ending. Eva really shows her strength (and sometimes her stupidity/rashness) in many ways in the final chapters. By the end, I really admired her for her bravery and commitment to herself and her own values.
Overall, I'd recommend this book to anyone who is looking for something a little bit different than your run-of-the-mill mystery and/or YA paranormal romance. This book is dark and creepy and intriguing. Once you start reading it, you won't be able to put it down. Be prepared to lose some sleep with this one.
Order Made for You