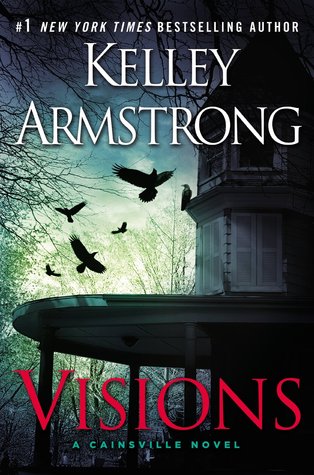 Rating: B
Synopsis:
As #1 New York Times bestselling author Kelley Armstrong's new Cainsville series continues, Olivia's power to read omens leads to the discovery of a gruesome crime with troubling connections to her new hometown.
Omens, the first installment in Kelley Armstrong's exciting new series, introduced Olivia Taylor-Jones, daughter of notorious serial killers, and Gabriel Walsh, the self-serving, morally ambiguous lawyer who became her unlikely ally. Together, they chased down a devious killer and partially cleared her parents of their horrifying crimes.
Their success, however, is short-lived. While Olivia takes refuge in the old, secluded town of Cainsville, Gabriel's past mistakes have come to light, creating a rift between the pair just when she needs his help the most.
Olivia finds a dead woman in her car, dressed to look like her, but the body vanishes before anyone else sees it. Olivia's convinced it's another omen, a sign of impending danger. But then she learns that a troubled young woman went missing just days ago—the same woman Olivia found dead in her car. Someone has gone to great lengths to kill and leave this young woman as a warning. But why? And what role has her new home played in this disturbing murder?
Olivia's effort to uncover the truth places her in the crosshairs of old and powerful forces, forces that have their own agenda, and closely guarded secrets they don't want revealed.
My thoughts on the book:
Visions is an excellent follow-up to Omens. The world that Armstrong created keeps expanding, and I love that the novel is set in Chicago. Olivia continues to evolve, as do the secondary characters, and the plot is complex. I really enjoyed this book, for the most part. I did not enjoy the new romance, though, and that's why I rated this one a B instead of an A. I have extremely high standards for Kelley Armstrong novels because she's my favorite author, so I rate her a bit tougher than most. I know that's not fair, but I can't help it.
Olivia is a fantastic leading lady. She's very different than the leading ladies from Armstrong's Otherworld series, and I really like that. She stands on her own, but she also is very intelligent and very rarely makes rash decisions. She's quite selfless, but not completely so. She's flawed, but at her core, she's good. I really enjoy reading from her perspective. I also like seeing her discover who she really is outside of the upper class society she grew up in. She's really coming into her own, and it's fascinating to watch. The secondary characters are also well-developed, and I absolutely adore Gabriel. He's so scarred, but he's not angsty. He never feels sorry for himself, but he does go to great lengths to protect himself. I really love his relationship with Olivia, and I hope that it grows into what it has the potential to be. Ricky is probably the least complex character. Sure, he has some depth, but I just really don't like him all that much. There's something there that I really don't trust. He seems too good to be true, almost, and that's never right. I also don't like his romantic relationship with Olivia. It's completely lust-driven, and while that is clearly what Olivia needs right now (or so she keeps claiming), it just doesn't seem "right." I don't think it's supposed to, though. It's the most underdeveloped relationship I've ever read from Armstrong, so I'm pretty sure she's up to something with it. I'm looking forward to seeing what, exactly, that is. The elders are intriguing, as is Patrick. I'd like to learn more about them in the following installments.
The world-building for this novel is unique and top-notch. I feel that I understand things as well as Olivia does at this point. Also, the setting is described well. Armstrong has either spent a lot of time in Chicago or done her research (or both) because she has everything from the terminology (State's Attorney instead of District Attorney, for example) to the feel of the city down perfectly. The plot keeps thickening and getting more and more complex, and I love it. The pacing is perfect, nothing is too fast or too slow, and the ending isn't a cliffhanger. The murder mystery for this book was wrapped up nicely, but there are still tons of things to find out about the world and Olivia and the other characters. I can't wait for the sequel.
Overall. I'd recommend this book and series to anyone who is looking for something new and different in the paranormal department. From the characters to the world, everything is fresh. You won't be disappointed with this series.
Order Visions today!