Stacking the Shelves is a weekly meme hosted by
Tynga's Reviews
! This meme showcases the books received, bought, or checked out from the library over the past week.
For Review:
Dead Girl Walking
By: Ruth Silver
In stores now!
A big thank you to Patchwork Press and YA Bound Book Tours!
Synopsis:
Forget everything you know about grim reapers.
Princess Ophelia Dacre sneaks out of the castle to visit her boyfriend in secret. A perfect night cut short when she's brutally murdered.
Ophelia is given the rare chance to become a grim reaper. She must become Leila Bele, cut ties with her old life, and follow the rules of the reapers. Her greatest adventure begins with death.
Black Widow
By: Jennifer Estep
Release Date: 11/25/14
A big thank you to Pocket Books!
Synopsis:
There's nothing worse than a cruel, cunning enemy with time to kill—and my murder to plan.
With wicked Fire elemental Mab Monroe long gone, you'd think I could finally catch a break. But someone's always trying to take me down, either as Gin Blanco or my assassin alter-ago. Now along comes the Spider's new arch-nemesis, the mysteriously named M. M. Monroe, who is gleefully working overtime to trap me in a sticky web of deceit.
The thing is, I'm not the only target. I can see through the tangled threads enough to know that every bit of bad luck my friends have been having lately is no accident—and that each unfortunate "coincidence" is just one more arrow drawing ever closer to hitting the real bulls-eye. Though new to Ashland, this M. M. Monroe is no stranger to irony, trying to get me, an assassin, framed for murder. Yet, as my enemy's master plan is slowly revealed, I have a sinking feeling that it will take more than my powerful Ice and Stone magic to stop my whole life from going up in flames.
When
By: Victoria Laurie
Release Date: 1/13/15
A big thank you to Disney-Hyperion!
Synopsis:
Pretty Little Liars meets Medium in this fast-paced thriller and fantastic YA debut from a New York Times bestselling author
Maddie Fynn is a shy high school junior, cursed with an eerie intuitive ability: she sees a series of unique digits hovering above the foreheads of each person she encounters. Her earliest memories are marked by these numbers, but it takes her father's premature death for Maddie and her family to realize that these mysterious digits are actually death dates, and just like birthdays, everyone has one.
Forced by her alcoholic mother to use her ability to make extra money, Maddie identifies the quickly approaching death date of one client's young son, but because her ability only allows her to see the when and not the how, she's unable to offer any more insight. When the boy goes missing on that exact date, law enforcement turns to Maddie.
Soon, Maddie is entangled in a homicide investigation, and more young people disappear and are later found murdered. A suspect for the investigation, a target for the murderer, and attracting the attentions of a mysterious young admirer who maybe connected to it all, Maddie's whole existence is about to be turned upside down. Can she right things before it's too late?
Purchased:
I went to the Sarah J. Maas /Susan Dennard signing at Anderson's in Naperville last weekend, and I bought two books since I only had e-ARCs of them, to get them signed. I already had Throne of Glass and Susan's entire trilogy, so I got those signed, too. I also got to interview Susan, and that will be posted with a giveaway in October.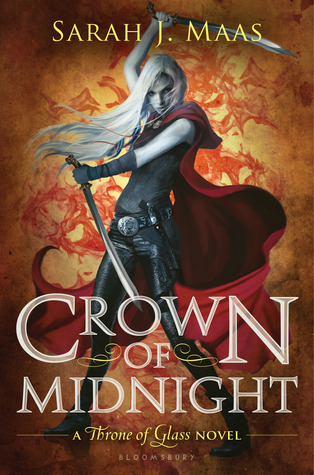 Crown of Midnight
By: Sarah J. Maas
Synopsis:
"A line that should never be crossed is about to be breached.

It puts this entire castle in jeopardy—and the life of your friend."
From the throne of glass rules a king with a fist of iron and a soul as black as pitch. Assassin Celaena Sardothien won a brutal contest to become his Champion. Yet Celaena is far from loyal to the crown. She hides her secret vigilantly; she knows that the man she serves is bent on evil.
Keeping up the deadly charade becomes increasingly difficult when Celaena realizes she is not the only one seeking justice. As she tries to untangle the mysteries buried deep within the glass castle, her closest relationships suffer. It seems no one is above questioning her allegiances—not the Crown Prince Dorian; not Chaol, the Captain of the Guard; not even her best friend, Nehemia, a foreign princess with a rebel heart.
Then one terrible night, the secrets they have all been keeping lead to an unspeakable tragedy. As Celaena's world shatters, she will be forced to give up the very thing most precious to her and decide once and for all where her true loyalties lie...and whom she is ultimately willing to fight for.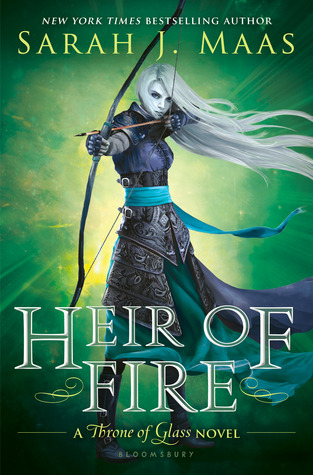 Heir of Fire
By: Sarah J. Maas
Synopsis:
Lost and broken, Celaena Sardothien's only thought is to avenge the savage death of her dearest friend: as the King of Adarlan's Assassin, she is bound to serve this tyrant, but he will pay for what he did. Any hope Celaena has of destroying the king lies in answers to be found in Wendlyn. Sacrificing his future, Chaol, the Captain of the King's Guard, has sent Celaena there to protect her, but her darkest demons lay in that same place. If she can overcome them, she will be Adarlan's biggest threat – and his own toughest enemy.
While Celaena learns of her true destiny, and the eyes of Erilea are on Wendlyn, a brutal and beastly force is preparing to take to the skies. Will Celaena find the strength not only to win her own battles, but to fight a war that could pit her loyalties to her own people against those she has grown to love?
Unchosen
By: Michele Vail
Synopsis:
Molly Bartolucci has done a lot of growing up, but after being accused of using illegal magic at her school for necromancers, the reaper-in-training is treading lightly. As the destined leader of Anubis's Chosen, she needs to study hard, train harder, and stay out of trouble. Uh, right. It doesn't help that she's feeling more than academic about her melt-your-bones hot reaping instructor, Rath. And if her relationship drama isn't enough to drive her over the edge, she has to deal with mother issues, nosy little sisters, suspicious friends, and an unnamed force stalking her at school. Then her family is attacked, and her bio-dad ends up comatose in the hospital. Now, Molly has to uncover who's trying to hurt her loved ones-and all without the help of Anubis.
Me with Sarah J. Maas
Me with Susan Dennard