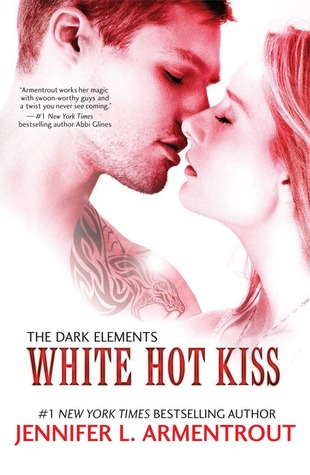 Rating: B+
Synopsis:
One kiss could be the last.
Seventeen-year-old Layla just wants to be normal. But with a kiss that kills anything with a soul, she's anything but normal. Half demon, half gargoyle, Layla has abilities no one else possesses.
Raised among the Wardens—a race of gargoyles tasked with hunting demons and keeping humanity safe—Layla tries to fit in, but that means hiding her own dark side from those she loves the most. Especially Zayne, the swoon-worthy, incredibly gorgeous and completely off-limits Warden she's crushed on since forever.
Then she meets Roth—a tattooed, sinfully hot demon who claims to know all her secrets. Layla knows she should stay away, but she's not sure she wants to—especially when that whole no-kissing thing isn't an issue, considering Roth has no soul.
But when Layla discovers she's the reason for the violent demon uprising, trusting Roth could not only ruin her chances with Zayne…it could brand her a traitor to her family. Worse yet, it could become a one-way ticket to the end of the world.
My thoughts on the book:
I went into White Hot Kiss expecting something different, and while the world and setting were different, the "formula" reminded me a lot of the Covenant series. I did enjoy the Covenant series, and Layla is a bit different from Alexandria, and Roth is a bit different from Seth. However, Zayne really reminded me of Aiden. The situation is different, but I don't know. This just wasn't original enough for me. I enjoyed the book, and I'll continue the series, but it didn't stand out.
I really liked Layla as a character, but like Alex, she had two human best friends (one boy and one girl) who are more than likely going to hook up. Layla is independent, but she is more careful than Alex. She's quite mature for her age, and I enjoyed reading from her perspective. Roth is kind of like Seth, in that he's a bad boy who actually cares about Layla instead of just himself, but that's where their similarities end. He is an extremely interesting character, and his origins are fascinating. I hope we get to learn more about him in the next installment. Zayne reminded me a lot of Aiden, but I am not Team Zayne like I was Team Aiden. Layla has known Zayne her whole life and they're super close, which is about the only difference between Zayne and Aiden. However, I feel like Roth is the better match for Layla.
The love triangle didn't really bother me because let's face it, with the book's title, it's not like you don't know you're getting a romance novel. JLA does love triangles well, and of course I picked my favorite of the two. I don't hate Zayne, but I do like Roth better. The world-building is done well, and I felt that I had a pretty decent grasp on the world in which Layla lived. I felt like I knew as much as she did, at least. I'm looking forward to learning more about it as time progresses. One of the plot twists is a bit unexpected, and really disturbed me. The pacing is pretty spot-on, and the action scenes are scripted well. Of course JLA does a great job with the romance scenes. She always does. The ending ties up a few things nicely and isn't a cliffhanger, but it leaves room for the next book in the series.
Overall, I'd recommend this book to people who are fans of JLA. If you enjoyed the Covenant series, then you'll love this series, too.
Order White Hot Kiss