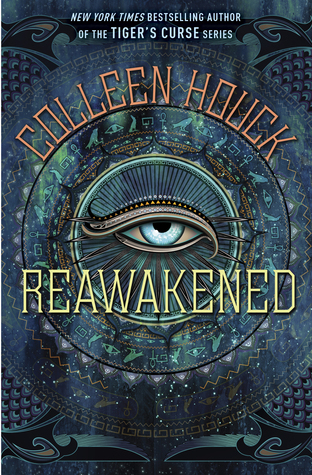 Rating: A-
Synopsis:
When seventeen-year-old Lilliana Young enters the Metropolitan Museum of Art one morning during spring break, the last thing she expects to find is a live Egyptian prince with godlike powers, who has been reawakened after a thousand years of mummification.

And she really can't imagine being chosen to aid him in an epic quest that will lead them across the globe to find his brothers and complete a grand ceremony that will save mankind.

But fate has taken hold of Lily, and she, along with her sun prince, Amon, must travel to the Valley of the Kings, raise his brothers, and stop an evil, shape-shifting god named Seth from taking over the world.

From New York Times bestselling author Colleen Houck comes an epic adventure about two star-crossed teens who must battle mythical forces and ancient curses on a journey with more twists and turns than the Nile itself.
My thoughts on the book:
I really enjoyed this novel. Reawakened is my first book by Colleen Houck, though I'd heard amazing thing about The Tiger's Curse series. I can easily say that I was not disappointed. This book is unique and full of action and adventure with a hint of romance. The characters are multifaceted and intriguing, and the plot kept me engaged until the very end. The pacing was a bit slow in the beginning and middle, but the concept and world were interesting enough that I was kept engaged. I'd recommend this novel to just about anyone!
Lily was a logical protagonist, and I really enjoyed reading from her perspective. Her denial of the situation lasted a long time, but that made it a bit more realistic. Lily is no Bella Swan, and for that I'm grateful. She may not have been kick ass in the way that some of the physically tougher heroines are, and her obsession with her own money got on my nerves, but she was strong and likable in her own way. Amon was extremely interesting, and I really liked watching him learn about our modern world. Some of his actions and reactions were hilarious, and it added some humor to an otherwise intense novel.
The prologue really created the setting for this novel, even though the book itself was set in many different locations. The mood and supernatural world were explained in those few pages, and it gave the book a sense of urgency. The romance was there, and there was a lot of tension and chemistry between Lily and Amon. However, we didn't get much of them as a couple past that. The world-building itself required some info dumps, and it was clear that Houck did her research in Egyptian history and mythology. The pacing, while a bit slow at times, really sped up at the end, and the ending left me wishing it was 2016 so I could get my hands on the next installment. This ending tied up most of the questions raised in this book, but set the stage for the sequel.
Overall, I'd recommend this book to anyone who is looking for something a bit different in the YA Urban Fantasy market. Houck's use of Egyptian mythology is refreshing, and a mentally strong, yet vulnerable protagonist is a nice change from the weak minded and/or physically strong girls in most of today's YA books.
Order Reawakened