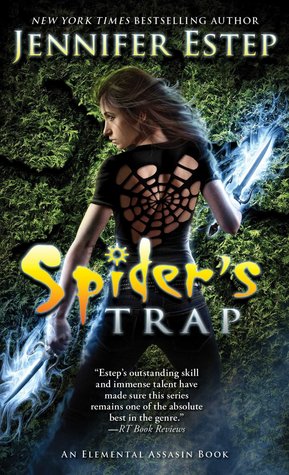 Rating: C-
Synopsis:
The next thrilling book in Jennifer Estep's New York Times andUSA Today bestselling Elemental Assassin series—"an extraordinary series… One of the most intriguing heroines in the genre" (Romantic Times Book Reviews).
Keep your friends close but your enemies within stabbing distance.
One important lesson I've learned in the assassination business is that to be the best you have to roll with the punches. Now that I'm queen of Ashland's underworld—by default, not by choice—a lot more punches are being thrown my way. But I suppose that's the price of victory for taking down some of the underworld's top dogs. Good thing I have my Ice and Stone magic to help me survive my volatile new position. Just when I think things are finally settling down, someone tries to murder me during a hush-hush underworld meeting. But the real surprise is how strangely familiar my shadowy assailant seems to be.
My job is to maintain order among killers, crooks, and thieves, and soon I'm embroiled in a bloody game where the ability to keep secrets could be the greatest superpower of all. My enemies have all sharpened their knives and laid their traps, waiting for me to fall. But this Spider weaves her own webs of death…
My thoughts on the book:
I love this series, but to be honest, all of these books are starting to run together. There's not enough character growth or change in plot to keep me interested anymore. I think it's just about time for this series to come to an end. I still enjoy Gin's snarky comments and all of the action and romance, but these novels just aren't exciting anymore. I'm not sure that I'll read the next in the series.
Gin is the same as she always is. Finn is the same as he always is. Owen is the same as he always is. You get the idea. I love these characters, but sadly, they just aren't developing anymore. I think it's time to tell them goodbye. I hate to say it, but it's true.
The plot itself is the same as always. People are trying to kill Gin. Bad guys are out to get her. Blah blah blah. The pacing and writing are good, so I was engrossed the entire time, but I knew what was going to happen because it's the same in every book. The ending left room for yet another sequel, but I kind of hope it just stops. I know it sounds like I didn't enjoy this book, but I did. I'm just tired of it being the same book with new bad guys each time.
Overall, I'd say if you love the series go ahead and read this one. It's a good read and Gin is charming as ever.
Order Spider's Trap