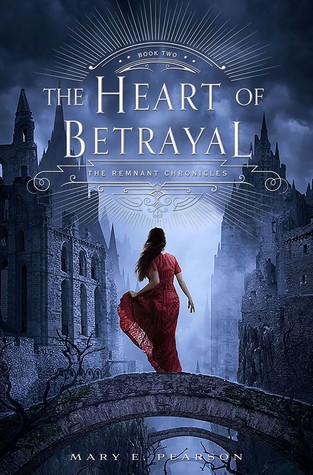 Rating: B+
Synopsis:
Intrigue abounds in this hotly anticipated sequel to
The Kiss of Deception
!
Held captive in the barbarian kingdom of Venda, Lia and Rafe have little chance of escape. Desperate to save her life, Lia's erstwhile assassin, Kaden, has told the Vendan Komizar that she has the gift, and the Komizar's interest in Lia is greater than anyone could have foreseen.
Meanwhile, nothing is straightforward: there's Rafe, who lied to Lia, but has sacrificed his freedom to protect her; Kaden, who meant to assassinate her but has now saved her life; and the Vendans, whom Lia always believed to be barbarians. Now that she lives amongst them, however, she realizes that may be far from the truth. Wrestling with her upbringing, her gift, and her sense of self, Lia must make powerful choices that will affect her country... and her own destiny.
My thoughts on the book:
This novel was so much better than its predecessor. The pacing was still a little slower than I would have liked, but the book itself was much more intriguing. I liked the cast better this time around, and there was a lot of suspense to keep me on the edge of my seat. It took me awhile to get through this one because of how slow the pace was, but I enjoyed it all. I can't wait for the final book in this trilogy.
Lia grew so much in this book, and I really started to respect her. She definitely used her trials to make her stronger, and she was a tough yet compassionate leading lady. I loved Kaden and Rafe in this book, too. Rafe really came into his own and showed his true colors. I liked that. Kaden still had a lot of growing to do at the end of this book, but he came a long way. I was glad I didn't have to put up with Pauline much, and to be honest, I could have done without her POV. It didn't really add much to the story, and she's just obnoxious. The Komizar was an intriguing and horrific enemy. The Vendan citizens really tugged at my heart strings.
The plot itself was tightly woven and suspenseful. There was a little romance, but not a ton. This book really played with the idea of morals/goodness vs. doing what one has to do to survive. I liked that. The pacing was slow but steady. The world building was fantastic, and I could clearly picture Venda. The writing was beautiful, and Pearson really had some lovely quotes in this installment. The ending was a cliffhanger, which I hate, but it ended in a good spot.
Overall, I'd recommend this book and series to anyone who enjoys good fantasy novels. You won't be disappointed.