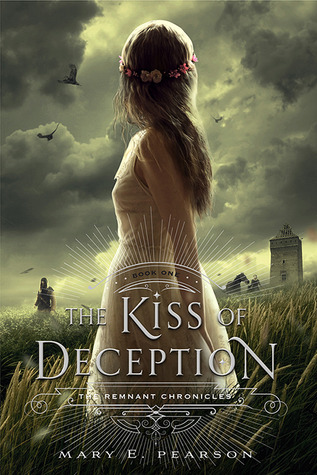 Rating: C-
Synopsis:
A princess must find her place in a reborn world.
She flees on her wedding day.
She steals ancient documents from the Chancellor's secret collection.
She is pursued by bounty hunters sent by her own father.
She is Princess Lia, seventeen, First Daughter of the House of Morrighan.
The Kingdom of Morrighan is steeped in tradition and the stories of a bygone world, but some traditions Lia can't abide. Like having to marry someone she's never met to secure a political alliance.
Fed up and ready for a new life, Lia flees to a distant village on the morning of her wedding. She settles in among the common folk, intrigued when two mysterious and handsome strangers arrive—and unaware that one is the jilted prince and the other an assassin sent to kill her. Deceptions swirl and Lia finds herself on the brink of unlocking perilous secrets—secrets that may unravel her world—even as she feels herself falling in love.
My thoughts on the book:
This novel had a lot of potential, and I really enjoyed the last 30% or so. The rest of the book was really slow-moving, and to be honest, this book could have been about 200+ pages shorter. The world building was thorough, that's for sure, and I felt like I got to know the characters pretty well. The pacing was just off, though. I guess I'll continue the series, but I may check out the sequel from the library before buying it. I feel like I wasted weeks of my life forcing myself through all of the sludge just to get to the cliffhanger at the end. Not the best way to earn readers, in my opinion.
The characters were interesting enough, and Lia was okay. She was a bit whiney to start with, but she got a decent personality as things carried on. She also became stronger as the story progressed (at a snail's pace), which I appreciated. I really liked that we didn't know who the assassin and prince were (which was which) until later in the book, and Pearson did a great job of giving her characters different voices, which is super important when the book is being told from multiple perspectives. I didn't really care much for Pauline, and I didn't really care at all about that chapter from her POV. Rafe was interesting, and so was Kaden. I can't wait to get to know both of them better. I think I like Rafe the best, though.
The pacing was so slow that it took me forever to read this book. It did not need to be 512 pages. It could have been 250 pages and the story would have been the same. The author really dragged things out with the multiple POVs, and she spent tons of time on everyday occurrences that really didn't need to be detailed, in my opinion. I made myself finish the novel, though, and I'm glad I did. The ending was good, even though it was a cliffhanger. Also, this book could have been 300-400 pages and encompassed part of the sequel and cut out a lot of the crap in the beginning and middle and not ended on a cliffhanger. I get really irritated when I read a slow-as-molasses book, just to have it get interesting at the end. Anyway, at least that part was intriguing.
If I were you, I'd check this one out from the library instead of buying. It may bore you enough and then anger you enough that you don't want to continue the series. I'm still on the fence as to whether I care what happens next or not.