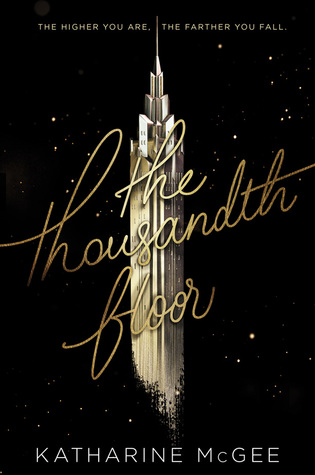 Rating: B-
Synopsis:
NEW YORK CITY AS YOU'VE NEVER SEEN IT BEFORE.
A thousand-story tower stretching into the sky. A glittering vision of the future where anything is possible—if you want it enough.
WELCOME TO MANHATTAN, 2118.
A hundred years in the future, New York is a city of innovation and dreams. Everyone there wants something…and everyone has something to lose.
LEDA COLE's flawless exterior belies a secret addiction—to a drug she never should have tried and a boy she never should have touched.
ERIS DODD-RADSON's beautiful, carefree life falls to pieces when a heartbreaking betrayal tears her family apart.
RYLIN MYERS's job on one of the highest floors sweeps her into a world—and a romance—she never imagined…but will this new life cost Rylin her old one?
WATT BAKRADI is a tech genius with a secret: he knows everything about everyone. But when he's hired to spy for an upper-floor girl, he finds himself caught up in a complicated web of lies.
And living above everyone else on the thousandth floor is AVERY FULLER, the girl genetically designed to be perfect. The girl who seems to have it all—yet is tormented by the one thing she can never have.
Amid breathtaking advancement and high-tech luxury, five teenagers struggle to find their place at the top of the world. But when you're this high up, there's nowhere to go but down...
My thoughts on the book:
This novel was definitely unique, and the beginning grabbed me and kept me reading until the very end. The writing was pretty well done, but the characters were a bit generic at times. Also, the plot dragged a bit in places, and some stuff is just creepy. I couldn't really connect to any of the characters, either, and the multiple viewpoints all sounded very similar. They needed to be differentiated a bit. The pacing was pretty slow, so it took awhile to get through this one.
The characters themselves were difficult to relate to. They were kind of shallow, and at times vapid. Avery really annoyed me a lot. Leda was selfish and obnoxious. Everyone else was kind of boring. Not a lot of personality in this book. More cliches than anything, and that's a shame. Especially with multiple viewpoints. It made it more difficult to get through than it should have been.
The plot was a bit loose in the middle. It just lagged more than it should have. The beginning was amazing, though, and the ending flew by. The writing was fairly well done, though the character dialogues were similar. The setting was unique, and the world-building was spectacular. I was fully immersed in this futuristic world. The romance that tried to exist was weak. It was more soap opera caliber betrayals than anything else.
Overall, I'd say this book was just okay. Give it a try if you're looking for something different and sci-fi. Not a lot of actual romance, so don't count on that. You may want to check it out from the library before buying.