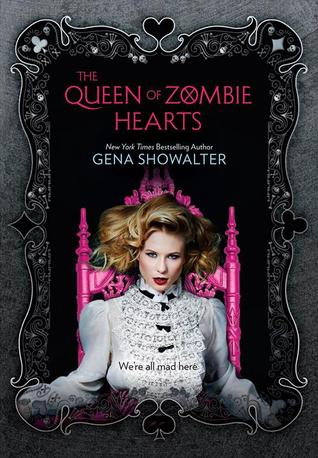 Rating: A
Synopsis:
I have a plan.
We'll either destroy them for good, or they'll destroy us.
Either way, only one of us is walking away.
In the stunning conclusion to the wildly popular White Rabbit Chronicles, Alice "Ali" Bell thinks the worst is behind her. She's ready to take the next step with boyfriend Cole Holland, the leader of the zombie slayers…until Anima Industries, the agency controlling the zombies, launches a sneak attack, killing four of her friends. It's then she realizes that humans can be more dangerous than monsters…and the worst has only begun.
As the surviving slayers prepare for war, Ali discovers she, too, can control the zombies…and she isn't the girl she thought she was. She's connected to the woman responsible for killing—and turning—Cole's mother. How can their relationship endure? As secrets come to light, and more slayers are taken or killed, Ali will fight harder than ever to bring down Anima—even sacrificing her own life for those she loves.
My thoughts on the book:
The Queen of Zombie Hearts is by far the best book in the White Rabbit Chronicles trilogy. I enjoyed all three books, but this one kept me hooked from page one. Showalter does not disappoint, and this book is equal parts romance, action, and emotion. Action packed and full of adventure, this novel will keep you on the edge of your seat from the first page to the very last.
The cast of characters is amazing in this final installment. Ali has been a terrific and strong character since the first book, but she learns to embrace her emotions and herself more in this installment. She really grows as a character, and she makes some serious sacrifices. Ali is a great narrator and her perspective is fun to read from. Cole is as swoon-worthy as ever, and he also grows into a much more impressive character. I really like how he's willing to fight for Ali, no matter what. Nana is also a bright spot with her teen slang, and of course the phrase "douche-purse" made a few appearances, which added some humor to some serious and/or steamy situations. Kat is charming as usual, and the new characters that are introduced in this book are also well-developed and personable.
The plot is fast-paced and has more twists and turns that a rollercoaster. Some of the surprises I saw coming, but a lot of the things that happened actually shocked me. Showalter's writing is top-notch, and the world-building is well done. The romance between Ali and Cole is sweet with just the right amount of heat, and the friendships between characters is touching. I will admit that I cried toward the ending, and even though some parts are sad, I like that things aren't perfect for everyone. I hate convenient endings because life isn't always convenient or pretty. Things are complicated and messy, and the last chapters of this book really reflect that.
Overall, I'd recommend this book and series for people who are looking for something that is different from the normal zombie and/or teen paranormal romance fare. This trilogy has heart and a kick ass leading female, fantastic writing, and a captivating world. What more could a person ask for?
Order The Queen of Zombie Hearts