Stacking the Shelves is a weekly meme hosted by
Tynga's Reviews
! This meme showcases the books received, bought, or checked out from the library over the past week.
I didn't get any new books last week, but this week I got quite a few. I'm super excited to share these with you!
For Review:
Forest of Whispers
By: Jennifer Murgia
Release Date: 9/9/14
A big thank you to Spencer Hill Press and NetGalley!
Synopsis:
Raised by an old fortune-teller within the dark veil of the Bavarian Black Forest, Rune has learned two valuable lessons: only take from the forest that which you can use, and never, never look anyone in the eye in the village. For something terrible happened in the forest long ago... and now, the whispers of a long-dead mother with a vengeful secret have come haunting.
Forced to flee all she has ever known, Rune soon learns of a legacy she is bound to--one that is drenched in fear, witchcraft and murder--a birthright that stretches beyond the grave to the trees where Rune is no longer safe.
House of the Rising Sun
By: Kristen Painter
Release Date: 5/13/14
A big thank you to Orbit and NetGalley!
Synopsis:
Augustine lives the perfect life in the Haven city of New Orleans. He rarely works a real job, spends most of his nights with a different human woman, and resides in a spectacular Garden District mansion paid for by retired movie star Olivia Goodwin, who has come to think of him as an adopted son, providing him room and board and whatever else he needs.
But when Augustine returns home to find Olivia's been attacked by vampires, he knows his idyllic life has comes to an end. It's time for revenge—and to take up the mantle of the city's Guardian.
The Over Sight
By: Charlie Fletcher
Release Date: 5/6/14
A big thank you to Orbit and NetGalley!
Synopsis:
"The end always happens faster than you think."
Once there were hundreds of members of the Oversight, the brave souls who guard the borders between the mundane and the magic. Now there are only five.
When a vagabond brings a screaming girl to the Oversight's London headquarters, she could answer their hopes for new recruit, or she could be the instrument of their downfall.
Memory Zero
By: Keri Arthur
Release Date: 8/26/14
A big thank you to Dell and Edelweiss!
Synopsis:
MORTAL RECALL
For Sam Ryan, life began at age fourteen. She has no memory of her parents or her childhood. In a decade of service with the State Police, Sam has exhausted the resources of the force searching for clues to her identity. But all mention of her family seems to have been deliberately wiped off the record. Everything changes the night Sam's missing partner resurfaces as a vampire . . . and forces her to kill him in self-defense. Now Sam is charged with murder. Suspended from the force, and with no one left to trust, Sam accepts some unexpected help from Gabriel Stern, a shapeshifter who conceals startling secrets.
While investigating the circumstances surrounding her partner's strange behavior, Sam discovers that Garbriel's been involved with a dangerous organization that's planning a war on the human race. More immediate, someone is guarding the truth about Sam's past—someone who'd rather see her dead than risk her knowing too much. To stay alive, Sam must unravel the threads of her past—and find out not only
who
she is but
what
she is.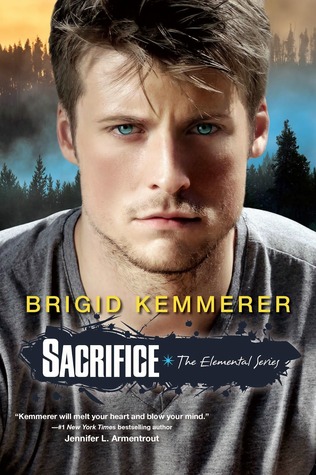 Sacrifice
By: Brigid Kemmerer
Release Date: 9/30/14
A big thank you to Kensington/K-Teen and NetGalley!
Synopsis:
One misstep and they lose it all. For the last time.
Michael Merrick is used to pressure.
He's the only parent his three brothers have had for years. His power to control Earth could kill someone if he miscalculates. Now an Elemental Guide has it out for his family, and he's all that stands in the way.
His girlfriend, Hannah, gets that. She's got a kid of her own, and a job as a firefighter that could end her life without a moment's notice.
But there are people who have had enough of Michael's defiance, his family's "bad luck." Before he knows it, Michael's enemies have turned into the Merricks' enemies, and they're armed for war.
They're not interested in surrender. But Michael isn't the white flag type anyway. There will be blood on the ground tonight…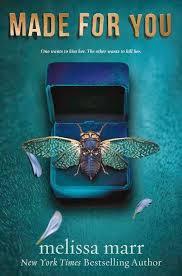 Made for You
By: Melissa Marr
Release Date: 9/16/14
A big thank you to HarperTeen and Edelweiss!
Synopsis:
Bestselling author of the Wicked Lovely books Melissa Marr's first contemporary YA novel is a twisted southern gothic tale of obsession, romance, and murder. A killer is obsessed with Eva Tilling. Can she stop him, or will he claim her?
When Eva Tilling wakes up in the hospital, she's confused—who in her sleepy little North Carolina town could have hit her with their car? And why? But before she can consider the question, she finds that she's awoken with a strange new skill: the ability to foresee people's deaths when they touch her. While she is recovering from the hit-and-run, Nate, an old flame, reappears, and the two must traverse their rocky past as they figure out how to use Eva's power to keep her friends—and themselves—alive. But while Eva and Nate grow closer, the killer grows increasingly frantic in his attempt to get to Eva.
For the first time, New York Times bestselling author Melissa Marr has applied her extraordinary talent to contemporary realism. Chilling twists, unrequited obsession, and high-stakes romance drive this Gothic, racy thriller—a story of small-town oppression and salvation. Melissa's fans, and every YA reader, will find its wild ride enthralling.