"Waiting On" Wednesday is a weekly event, hosted by Jill at
Breaking the Spine
, that spotlights upcoming releases that we're eagerly anticipating.
This week I'm waiting on Mortal Heart by Robin LaFevers.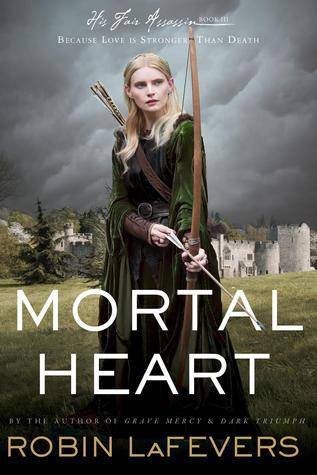 Release Date: 11/4/14
Synopsis:
Annith has watched her gifted sisters at the convent come and go, carrying out their dark dealings in the name of St. Mortain, patiently awaiting her own turn to serve Death. But her worst fears are realized when she discovers she is being groomed by the abbess as a Seeress, to be forever sequestered in the rock and stone womb of the convent. Feeling sorely betrayed, Annith decides to strike out on her own.
She has spent her whole life training to be an assassin. Just because the convent has changed its mind doesn't mean she has.
But across Brittany, the tides of war are drawing ever nearer, with France pressuring the beleaguered duchess from all sides. Annith's search for answers threatens to rip open an intricate web of lies and deceit that sit at the heart of the convent she serves. Yet to expose them threatens the very fabric of her existence and risks an unforeseen chance at love, one that she can no longer deny. Annith must carefully pick a path and, gods willing, effect a miracle that will see her country—and her heart—to safety.
Why I'm Waiting:
So far, I have really loved this series. LaFevers does an amazing job of painting the historical backdrop and building the assassin world. I also love that it's set in Brittany, France, because this is a place I've always been obsessed with.